I think it's great when analysts aren't afraid to voice their opinions about athletes. But, if someone is so absolute in his or her opinion, is it fair to the athlete?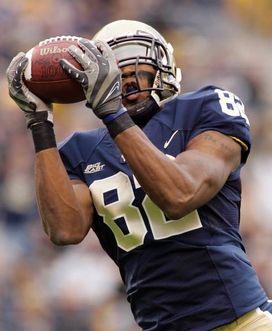 ICONDespite a drop in production last season, Baldwin was still a first round pick.
The other day ESPN Analyst Trent Dilfer commented on the Kansas City Chiefs' selection of wide receiver Jonathan Baldwin. Dilfer insinuated that Baldwin was a bad draft choice, stating that he had a source who told him Baldwin is known for "undermining his quarterback and coaches." Well, I have a source that says he had no problem working with Baldwin and he doesn't believe Dilfer's statements to be true. So which source is right? Mine or Dilfer's?
I'm a fan of Dilfer; I like his fiery personality and insights. I understand that he may have spoken to a coach that had an undesirable experience with Baldwin. But, I think one thing to keep in mind before you judge the personality of a player is: Did one guy have this experience of him, or did many? Sources and even analysts could have an agenda when talking about a guy and they could portray him to the public in an inaccurate way. Is it fair to publicly label a player in such a negative way before he even steps foot onto a football field?
Only time will tell what Baldwin's true mode of operating will be. I hope for his sake that my source is right.
Stephanie Turner has been closely tied to the NFL her entire life. She was raised around football, traveling from team to team with her father, an NFL Coach. Stephanie offers a true insiders' perspective to all things football. She is an actress and writer in Los Angeles and is the creator of footballbrat.com.
Follow Turner on Twitter: @footballbrat