As the fallout of the lockout continues, the NFL has cancelled the rookie symposium. But before we start spinning this story out of control, let's talk about the actual event—and decide if there is any real value lost here.
I went as a St. Louis Rams draft pick (rookie free agents don't attend the symposium). Sit in meetings, small groups, watch role play skits, listen to speakers—and put condoms on bananas.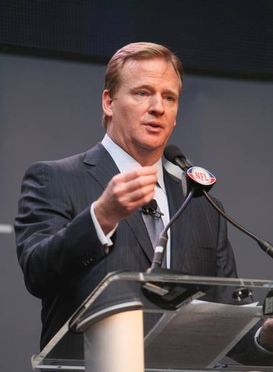 ICONHow much is really being lost by the NFL shutting down the rookie symposium?
Yes, that's what I did out in San Diego back in 2000.
Honestly, I have never been a fan of the NFL trying to teach rookies life skills over a three day period. The idea sells (and the intentions from the league are right), but when you have a large group of football players and some don't care about the history of the league—or the majority of the speakers—it doesn't translate.
In fact, the talk at our rookie symposium was more about the diamond crusted watch and matching necklace of WR Peter Warrick that reflected light all across the room.
I remember Marcus Allen up on the stage—angry—when he started talking about players of the past. Great players that half of the guys in the room didn't know. Blank faces in the crowd.
The NFL wants rookies to understand that the players of the past have paved the way for the players of today. And that is why this year's event was scheduled to be held in Canton at the NFL Hall of Fame.
But I still go back to the process. You aren't going to change a player's character or personality in three days. Speakers can drill rookies about the importance of handling your finances, hanging out with the right crowd, staying out of real trouble and avoiding the pitfalls of overspending or carrying an entourage to the stadium on Sundays.
That doesn't mean they are listening.
The one time the group did sit up straight? Two beautiful women up on stage asking who would take them home from a club. Plenty of guys raised their hands with smiles on their faces—until both women said they were HIV positive.
Shock value? You bet and that's part of the program at the symposium.
Again, I'm not here to blast the league for putting on this event, because they are trying their best to make sure that rookies enter the professional stage briefed on everything—and anything—that can go wrong when you are in the spotlight. And for the players that do listen, take notes and try to understand the process of turning pro, they will learn something.
However, from my experience, the players that wanted to be there were far outnumbered by guys that treated the event like a chore. And that is the real problem with the NFL's rookie symposium.
Follow me on Twitter: MattBowen41