NFP's Introduction to Scouting Class is now registering for our next session! Early bird pricing in effect until February 15th! Save $100 and REGISTER NOW!
The tenth pick in the 2011 NFL draft has been traded to the San Francisco 49ers so that he can play backup to the 36th selection from the same draft.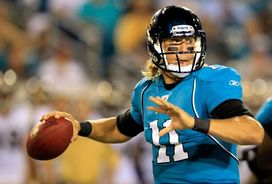 The Blaine Gabbert era in Jacksonville has come to a close.
That's right, Jaguars fans. The Blaine Gabbert era in Jacksonville is over. According to multiple reports, the Jags somehow found a way to ship Gabbert to the San Francisco 49ers in exchange for a sixth-round pick. That's a steal right there for Jacksonville, who would likely have accepted Enron stock in exchange for their 2011 first-round bust of a quarterback.
Also worth noting in this transaction is the fact that Gabbert is currently scheduled to make $2.01 million in 2014, while 49ers starting quarterback Colin Kaepernick will earn $973,000.
Gabbert has started just 27 games during his three seasons in the league, throwing 24 interceptions for a QB rating of 66.4.
Hit me up on Twitter: @JoeFortenbaugh