I recently overheard a couple of guys talking about how they're sick of how ESPN covers only the Jets. Since training camp started, Jets camp has been ground zero for an unlikely preseason football craze. Even Sal Paolantonio made reference to the fact he'd been there for 11 days. "We're embedded baby," quipped a purposely giddy Paolantonio.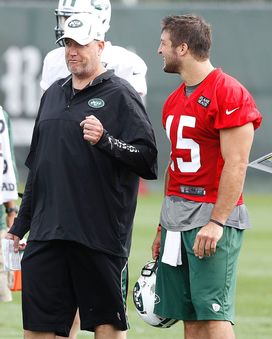 US PRESSWIRERex Ryan, Tim Tebow and the Jets have been the focus of attention throughout training camp.
The Jets are compelling because they contain all the elements coveted by pop culture disguised as sport: The dashing, yet immature quarterback, the muscular Christian soldier, and the petulant core of divas at the receiver position. But it's mostly about Rex Ryan.
Last February, I was in Indianapolis, at the Combine. During lunch, I ventured to the food court at the local mall. While dining on a chicken sandwich from a certain unnamed establishment which proudly discriminates against same sex marriage, I saw Ryan approaching.
Like me, he was obviously looking for a break from the daily proceedings. I nodded to him. He started to say hello, then he noticed the media credential hanging around my neck. Now I thought that was a good thing. Ryan loves him some media. I could talk some 'ball with him on an informed level. But he made it clear he wanted no part of me. With a look of annoyance, he walked right past me and right on out of the building.
Maybe it was his environment. Maybe the specter of placing him in the vicinity of Dairy Queen or A & W made him ill at ease. I understand. The guy has done impressive things in terms of weight loss and healthy lifestyle. But I can't help thinking that if I had a camera it might have gone differently. When there's a camera present, Rex Ryan is quick, engaging, and funny. He's a fantastic defensive coach too. His units in Baltimore were every bit as good as the ones created by Marvin Lewis.
But Rex Ryan is known as the king of the pulpit.
The coaches' press conference has become theatre. When the light is on and he stands at the dais, Ryan is more than a sound bite. He's both the antidote and toxin to the most recent movement in journalism.
It's a known fact that press conferences are boring. It's also known that football coaches, perhaps more than any other coaches, don't answer questions. This is annoying. So in recent years reporters have taken to not so much asking questions for the sake of gleaning information, but made it akin to poking a stick into the cages of animals.
The willingness of reporters to resemble heckling fans was effectively sanctioned in December of 2008. That's when former Detroit News writer Rob Parker's high volume attack on former Lions coach Rod Marinelli. The Lions were on their way to winless season when Parker, standing in the back of the press room, loudly addressed the fact Marinelli's defensive coordinator was his son-in-law. Inquired Parker: "Do you wish your daughter would have married a better defensive coordinator?" Marinelli demurred that day.
Rex Ryan hasn't gone off. But each time he steps to the mic he launches a preemptive strike. He'll make you laugh before you can piss him off. Each session is equal parts stand up, confessional, and one man show. From his admission that every game against Peyton Manning is personal, to "wanting to be the best team in the state," to his now infamous Super Bowl guarantee, the guy has never disappointed.
The Q and A has strangely become a component of a coach's value. After Tyrone Willingham was fired by Washington after a winless season, Stephen A. Smith added that one of his shortcomings was "not being good in press conferences."
I'll admit to being old school. That's one reason I remain a Willingham fan. Overinvested in dignity as he may be, he refused to lend himself to a minstrel show. There's something honorable in refusing to joke—especially when you aren't winning. But two of Willingham's compatriots—Denny Green and Herm Edwards, have reaped the benefits of angry, often incoherent post game rants. The Coors Light company has built a successful ad campaign upon this very thing. Green and Edwards have joined Mora and Mike Ditka in the practice of making rage a marketable trait.
I'm not sure how I feel about all of this, which is probably why I'm not sure how I feel about Rex Ryan and the Jets' SUNY Cortland extravaganza. I get it. In this business, when you're hard up for material, a string of one-liners is manna from heaven. And every job in sport has become an audition for a job in mass entertainment. You've got to be personable.
But at what cost?