NFP's Introduction to Scouting Class is now registering for our next session! Early bird pricing in effect until February 15th! Save $100 and REGISTER NOW!
Notre Dame held its annual Blue-Gold spring game on Saturday in front of 31,582 spectators at Notre Dame Stadium, and all eyes were on the four quarterbacks competing for the starting job.
After watching incumbent Tommy Rees, junior-to-be Andrew Hendrix, rising sophomore Everett Golson and early enrollee true freshman Gunner Kiel participate in the contest, Golson performed like he was the best quarterback on the field and the best fit for this offense. While he bobbled a couple of snaps, the 6-foot, 185-pounder clearly brings the most athleticism, excitement and intrigue to the position out of all of the signal-callers vying for the starting job.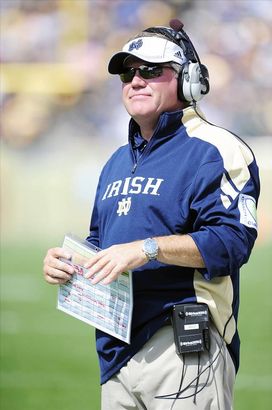 ICONBrian Kelly has not yet named the starting QB at Notre Dame, but Everett Golson has the skill set to succeed in the offense.
The Myrtle Beach, S.C., native finished the game 11 of 15 for 120 yards and two touchdowns, including a 19-yarder to receiver/running back Theo Riddick in the second quarter. He ran six times for 25 yards and was the only QB to not throw an interception. As head coach Brian Kelly has maintained throughout the spring, ball protection is the biggest criterion in this quarterback derby. The Fighting Irish ranked 118th in turnover margin last season, and ND will not be able to win many games with a brutal schedule in the fall if the Irish turn the ball over consistently as they did last year.
If he limits his mistakes, Golson's ability to keep plays alive with his feet and take off and run is huge, but consistently keeping his eyes down the field will be vital. And he still makes Kelly nervous on the sideline.
"You can put him in the same category as George Atkinson," Kelly said of Golson, comparing him to the electric running back/return specialist who starred in the game Saturday. "Both of those guys are exciting, electric players, but they are a heart attack for me.
"We've got to get them there, because I think we all see that they've got great skill. But they are guys that are a work in progress. You're seeing a work in progress."
Heart attack aside, while it was merely a spring game, Golson has the momentum heading into fall to win the starting job. If he continues to work hard this summer both in the weight room, film room and voluntary workouts with his teammates, he could have the inside track on the starting job despite Rees and Hendrix having the edge in experience.
Kelly was disappointed with Rees' and Hendrix's picks, pointing out that Rees can't force the issue on third down. And he also acknowledged that a full offense can't be implemented with Kiel after just 15 practices. Meanwhile, he noted that Golson needs to get the plays into the huddle quicker, which will come with experience.
"Quarterback is an art and a science," Kelly said. "He has the art part down. It is the science and consistency he needs. The stats really don't mean anything to me. What I did not like is that he has to get the plays in quicker, he has to recognize the signaling or else we are going to get flags thrown all over the place."
But if Saturday is any indication, Golson has a bright future in South Bend. Even if Golson isn't given the starting job for the opener in Dublin against Navy, Kelly has shown that he will utilize his "next man in" approach whenever necessary. And that bodes well for the exciting talented dual-threat QB.
Here are the first half highlights from Saturday's Blue-Gold game.
Here are the second half highlights from Saturday's Blue-Gold game.
Email dave.miller@nationalfootballpost.com or follow me on Twitter at Miller_Dave