There are many Texas Tech fans who yearn for Mike Leach to return to Lubbock and bring stability back to the football program.
But while the Washington State head coach isn't coming back to the Lone Star State anytime soon, Red Raider fans have to be ecstatic that their new head coach will be someone who has worked with some of the most respected minds in football, including Leach, Kevin Sumlin, Dana Holgorsen, Bill Belichick and Mike McCarthy.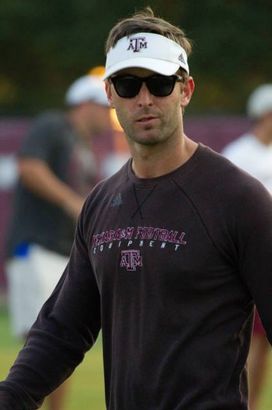 Kliff Kingsbury will become the second-youngest head coach in the FBS.
Texas Tech athletic director Kirby Hocutt announced via Twitter on Wednesday that Kliff Kingsbury, the former Red Raiders quarterback, will be the new face of Texas Tech football, replacing Tommy Tuberville, who left to take over the Cincinnati program.
The 33-year-old Kingsbury, who as Texas A&M offensive coordinator oversaw the development and Heisman Trophy run of dual-threat quarterback Johnny Manziel this fall in the Aggies' debut season in the SEC, will become the second-youngest head coach in the Football Bowl Subdivision, just ahead of Toledo's Matt Campbell.
Kingsbury's rise up the coaching ranks was accelerated over the last year because of the ease at which Texas A&M's offense was able to work in the rugged SEC. This fall, the Aggies led the conference in total yardage, rushing, passing and scoring. The unit also happened to net the first freshman Heisman winner in the history of the award.
Of course, it goes without saying that some Red Raider fans are concerned about Kingsbury's lack of head-coaching experience. And it's a legitimate concern. However, we saw Campbell win nine games at Toledo this season in his first year on the job, and we also saw Gus Malzahn lead Arkansas State to a Sun Belt title. Granted, Malzahn had more overall coaching experience coming into the year. But Kingsbury is similar in that he rightfully gets a lot of credit for the Aggies' success this season, much like Malzahn received during Auburn's BCS national title run in 2010.
It's important to remember that Kingsbury's relationship with Sumlin goes back to their days together at Houston, where they worked closely for four years. They developed a tremendous working relationship, much like many of the other coaches who have emerged from the 2000 Texas Tech squad. Leach, the head coach of that team, is one of six current head coaches who were a part of that squad: Kingsbury was the quarterback, while Dana Holgorsen, Art Briles, Sonny Dykes and Ruffin McNeill were assistants.
Perhaps the most important aspect of the Kingsbury hire, though, is the fact that the former Texas Tech QB will bring his passion for the community and the school back to Fall Saturdays in Lubbock. For whatever reason, Tuberville was not the right fit for the university. Part of that may have been the yearning on the part of many fans and alumni for the return of Leach.
With Kingsbury, at least, a little bit of the past is being brought back in hopes of a brighter future.
And that's exactly what this hire represents: hope. While TCU and Baylor certainly have their football programs on the right track, Tech still has a larger enrollment and more alumni than the pair of private schools. And with the Big 12 losing Nebraska, Texas A&M and Missouri in recent years, the league has room for another program to emerge and compete in the upper-tier of the conference.
It's not a given that Kingsbury turns into Sumlin, an accomplished coach who had success immediately as the face of a program. But he has certainly been around enough bright minds that he deserves a chance to at least try. And it couldn't come at a more perfect place than Texas Tech.
Email dave.miller@nationalfootballpost.com or follow me on Twitter at Miller_Dave
NFP's Introduction to Scouting Class is now registering for our Winter sessions! Save $200 if you register before December 20th! REGISTER NOW!