QB Andrew Luck: Stanford (6-4, 235)
What I like…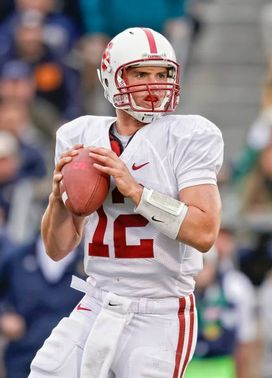 ICONThere isn't much this guy can't do.
- Exhibits natural bend at the knees and balance with his footwork in the pocket, is consistently in an effective throwing position.
- Possesses an impressive feel in the pocket, subtly moves away from pressure, keeps eye level down the field and isn't afraid to take a shot after letting go of the football.
- Is a very good athlete for his size, can hurt you with his legs on the move, takes good care of the football and knows when to take off.
- Is natural/coordinated on the move. Throws accurately off the boot-action game, generates good torque from the hips and consistently squares his shoulders into his target.
- Exhibits "plus" arm strength when throwing on the move.
- Possesses quick, nimble footwork when asked to reset and align his body with a secondary target.
- Goes through his progressions very well, can work his way quickly across the field and back to his check down man if need be, really does know where everyone is throughout his progression.
- Displays a natural rhythm/timing of when the football needs to come out and rarely is late, even when throwing to secondary targets.
- Is comfortable working from a variety of formations and getting his team in and out of plays/formations and creating favorable run/pass situations.
- Has done a lot with a little, doesn't have a real explosive receiving corps and routinely is forced to fit balls into tight windows.
- Is comfortable from under center, sells play-action game well, settles feet quickly and can throw in rhythm in the 3-step game.
- Has a better arm than given credit for, can spin the football cleanly and make all the throws needed with plenty of zip outside the numbers and down the seam.
- Is a competitor who has proven he can bounce back from adversity and take a team on his shoulders in crunch time.
- The moment never seems too big for him, always has a calm demeanor rarely gets frazzled.
- A bright kid who has worked hard to develop at his trade and will win games for you on Monday, Tuesday and Wednesday with his preparation.
What I don't like…
- Has locked onto receivers at times a bit more frequently this year compared to years past.
- Tries to get too cute at times with his touch on bucket throws down the field. Passes will hang on him giving defensive backs a chance to range and break on the football.
- Accuracy will get a bit inconsistent at times when asked to quickly step up in the pocket and throw on the move when being flushed due to pressure.
- Has thrown into coverage more often this year and tried to force more throws, likely due to his receivers' inability to consistently create separation.
- Trusts his ability to decipher defenses so much that he will throw blind back across the field at times to secondary options and not see defenders sitting underneath.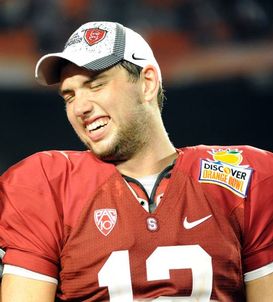 ICONLuck is by far the better prospect.
Final Take…
Overall, when breaking down the game of these two quarterback prospects, in my mind it's not very close.
Oklahoma's Landry Jones is a natural passer who can spin the football on all levels of the field and when he has a clean pocket and knows where he's going with the football, he's very good. However, unlike Luck, Jones doesn't have a great feel working the entire field, isn't the same type of athlete capable of quickly resetting his feet and too often struggles when he feels pressure.
I see Jones more as a potential starter only who is going to need a lot of talented pieces around him in order to be successful. I simply don't see him as a guy capable of carrying an NFL team and can't image Jones being anywhere near the prospect he's being made out to be if he were in the Stanford offense throwing to that receiving corps.
Luck, on the other hand, looks like a franchise quarterback to me. He's got a great feel for the game, deciphers information extremely well, is accurate both from the pocket and on the move and can make all the throws.
Now, there is some concern about his arm strength. However, in my mind that's not a concern at all. And honestly I think when given a chance in the NFL to really rip the football into tight spots at the second level with more consistency, I think he's going to prove to many that he has a much stronger arm than given credit for.
Therefore, Luck in my mind is the top overall quarterback prospect and is going to be able to play at a high level early on in his NFL career.
Follow me on twitter: @WesBunting
Check out the NFP Draft page here...