NFP's Introduction to Scouting Class is now registering for our next session! Early bird pricing in effect until February 15th! Save $100 and REGISTER NOW!
Nnamdi Watch 2011 has entered day 3 with a new leader emerging in the race to secure the services of the top free agent cornerback on the market.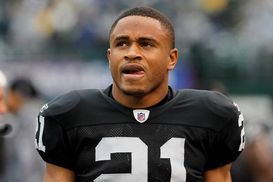 ICONYou're looking at a man who is about to become very rich.
Michael Lombardi of the NFL Network reports that the Houston Texans are now out in front in the Asomugha sweepstakes.
"Hearing Houston has moved into the lead for Nnamdi Asomugha—money will be in the 12-14 mill per year range...Revis makes 11.5 per year," tweeted Lombardi.
We'd be willing to guess this thing is far from over, but for now, Texans fans can go ahead and smile.
At least until the next report.
Hit me up on Twitter: @JoeFortenbaugh