NFP's Introduction to Scouting Class is now registering for our next session! Early bird pricing in effect until February 15th! Save $100 and REGISTER NOW!
After amassing only 9.0 sacks in 27 games played from 2011-2012, New York Giants defensive end Justin Tuck entered his 2013 contract year looking to prove he still had enough gas left in the tank to warrant another contract. 16 games and 11.0 sacks later, the 30-year-old from Notre Dame is ready to put pen to paper.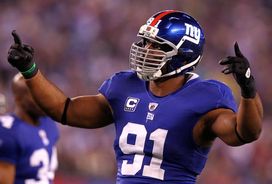 Back with Big Blue in 2014?
And it appears as if that transaction will take place with the only team Tuck has ever known.
According to multiple reports, Tuck is expected to re-sign with the New York Giants on Tuesday. However, no report has surfaced indicating a deal has been finalized, so any interested parties still have a few more hours to make their respective cases.
Hit me up on Twitter: @JoeFortenbaugh