Buyer's Remorse
In no particular order...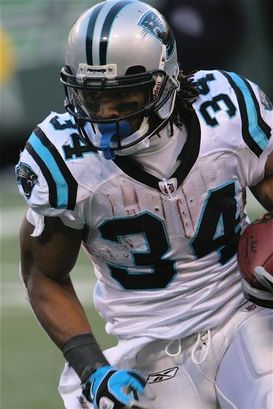 ICONWilliams was part of the Carolina spending spree this year.
1. DeAngelo Williams: The Panthers seemed to be chomping at the bit when the bell went off for doing business this summer. While the team sat on the sidelines financially in 2010 -- and finished with the league's worst record -- the Panthers roared in player spending this year, an amount of close to $180 million. Their first move was to re-sign Williams to a five-year $43 million deal with $21 million guaranteed, catapulting him into elite company – Adrian Peterson and Chris Johnson are the only running backs earning a higher average per year or guarantee. This is a significant and thus far unwise investment for a player that splits carries.
2. Sidney Rice: The Seahawks –- through different coaches and management – can't seem to resist high-priced free agent (and traded-for) wide receivers, going back to Deion Branch and TJ Houshmanzadeh. Still riding his success from a breakout season in 2009, Rice signed a five-year $41 million contract with the Seahawks with $18 million guaranteed despite an injury-riddled season last year in Minnesota (only 17 receptions). Injuries have continued to plague Rice in Seattle.
3. Donovan McNabb: McNabb went to his third team in three years, and perhaps his last. The Vikings – unwilling to hand the keys to the team to rookie Christian Ponder without the benefit of minicamps and an offseason – traded for McNabb and gave him a one-year $5 million deal. I discussed McNabb's fall from stardom. After only throwing four touchdowns in six games, he was released in early December and went through waivers unclaimed, signaling that it may be time for him to make the move into the broadcast booth.
4. Kevin Kolb: Arizona traded Dominique Rodgers-Cromartie and a second-round pick before rewarding Kolb with a six-year $65 million contract with $21.5 million guaranteed, this for a quarterback with a limited playing sample. I do understand that it is early to evaluate that deal, but for a player upon whom the team has staked its future on, Kolb has yet to prove his worth even when healthy.
5. Ryan Fitzpatrick: Seven weeks ago, with the Bills 5-2 and sitting atop the AFC east, Buffalo extended Fitzpatrick with a lucrative 6-year, $59 million contract that included $24 million guaranteed, besting past guarantees on extensions given to Jay Cutler and Aaron Rodgers ($20 million each). I analyzed the deal here. The Bills have hit a tough patch since then, losing seven straight games. Fitzpatrick hasn't helped the cause, with an unfortunate touchdown-to-interception ratio (8:12) during that dreadful span. And many people are already asking: "When can the Bills get out of that deal?" The ink is barely dry!
And, in a separate category of "To-be-determined-in-a-couple-months"....
Peyton Manning: I understand that Manning has proved his worth by his absence this year, and that $26 million is a relatively small price to pay as a reward for his value over the years, but this contract has been baffling. Beyond the $26 million in 2011 for a player coming off two neck surgeries and about to have a third, Manning's option payment of $28 million is due five days before the 2012 NFL League Year begins! This means the Colts have no opportunity to trade Manning – without a renegotiation under Manning's terms – and must either make the payment or release him. I'll have much more on this contract as we approach late February.
There are many candidates for both lists that didn't make either list but these were just a few of the bargains and overpriced items as we get our final shopping lists completed in this holiday season.
Merry Christmas and happy holidays to all!
Follow me on twitter @adbrandt
NFP's Introduction to Scouting Class is now registering for our Winter sessions! Save $200 if you register before December 20th! REGISTER NOW!