If you're free agent wide receiver Mario Manningham, you'd have to love the fact that NFL teams have been throwing around big-time cash on wideouts so far this offseason.
<p class="co_image co_image_right inline_right">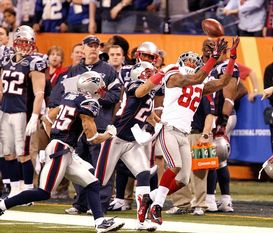 ICONManningham could be the next receiver to land a nice payday.
Manningham may not have the resume or the talent that guys like Vincent Jackson and Calvin Johnson possess, but he's on the open market and that might be just enough to land a handsome paycheck.
Adam Schefer of ESPN is reporting that the Miami Dolphins, Buffalo Bills and San Francisco 49ers have all had "early conversations" with the free agent wide receiver.
After sending Brandon Marshall to the Chicago Bears on Tuesday in exchange for two third-round draft picks, the Dolphins are probably the team with the biggest need for a wide receiver out of those three franchises. Buffalo was rumored to be in the market for Robert Meachem's services but came up short and San Francisco—despite signing Randy Moss—still appears very interested in upgrading the wideout position.
Manningham took a back seat in New York this season due to the emergence of Victor Cruz, but the 25-year-old still caught 39 passes for 523 yards and four scores. With only four years of service under his belt, the former Michigan product could still emerge as a solid No. 2 option for a team in need of a wide receiver.
Hit me up on Twitter: @JoeFortenbaugh