Questions From The Audience
NickDblU: Could you rank these 'flex' options? Dwayne Bowe, Antonio Brown, Denarius Moore, Santana Moss, Mark Ingram, Nate Burleson? Would you play Burleson AND Calvin?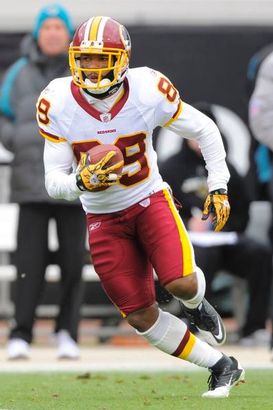 ICONSantana Moss is the pick.
Answer: Nick, instead of randomly ranking your cast of fantasy characters for Week 14 -- all of whom flashed promise and flaws this year -- let's handle this by the process of elimination. For starters, let's drop the rookie receivers from playoff consideration (Moore). Then, we'll remove the receiver who drew the untenable task of having Tyler Palko as his quarterback (Bowe). Next, we'll boot the guy who encounters the Browns' surprisingly stingy pass defense this weekend (A-Brown); and then for good measure, let's lose Burleson ... because it doesn't make sense to start two Lions wideouts in a playoff game. That leaves us with Mark Ingram (likely to play despite a toe malady) and Santana Moss: While I'm not opposed to starting a rookie back in the playoffs (see question below), Moss is the stronger play for three big reasons:
1. The Patriots have the NFL's worst pass defense (a BIG reason).
2. Rex Grossman loves throwing to Moss during moments of inescapable pressure.
3. The injury-ravaged, suspension-laden Redskins only have two viable fantasy options left: RB Roy Helu and Moss ... who's a good bet for 11 targets against New England.
BBartlett819: Need 1 WR/1 Flex starter from Dez Bryant, Jeremy Maclin, Eric Decker, Reggie Wayne, Jonathan Stewart, Marion Barber, Tony Gerhart. Thanks!
Answer: Given the schizophrenic nature of the Colts offense -- and Indy's opponent (Baltimore) -- it's tough to commit to Reggie Wayne over Bryant. After all, Dez had a monster game against the Cardinals last week (8 catches, 86 yards, 1 TD) and collected a superstar-like 14 targets at a time when DeMarco Murray, Jason Witten and Laurent Robinson were available to Cowboys QB Tony Romo. Yes, Dez will probably endure Giants CB Corey Phillips shadowing him all of Sunday night ... but Dez is the intelligent move for the playoffs. As for the flex spot, it's down to Wayne, Barber, Gerhart and Jonathan Stewart; and the Panthers will be sky-high for their own 'Super Bowl' -- a Week 14 rematch against the Falcons at home. I would be shocked if Stewart didn't rack up 85 total yards and one touchdown. Go with J-Stew.
FingerGuns99: With no Matt Forte this week, should I start Marion Barber or Mark Ingram?
Answer: In most situations, I'd side with the running back (Barber) who doesn't have to share carries; but I simply don't have a read on the Bears offense right now. Can Caleb Hanie rebound from a brutal effort against the Chiefs? Is offensive coordinator Mike Martz fully focused on helping Chicago overcome substantial losses at QB/RB (Jay Cutler/Forte) ... even though he might be a lame duck for the last four games? I have great empathy for Bears fans; and frankly, I'm a little uneasy about any of their fantasy prospects. Let's ride Ingram ... and hope for 80 total yards and one score. (In the event of DNP, go Barber.)
mscalese: Who's more keeper-worthy, Cardinals RB Ryan Williams or Sidney Rice? Both are on IR, but I need to release one now to free up a roster spot.
Answer: Hmmmm ... this is a real doozy. On one hand, we have my July prediction for fantasy rookie RB of the year, before Williams was shelved with a torn ACL ... and then we have a receiver who is a consistent quarterback away from potentially dominating the league. As much as I love Rice and his uncanny knack for drawing pass-interference penalties in the end zone, when in doubt ... always go with the explosive back. To be honest, I hadn't thought of Williams in four months; but now, I'm really hoping his rehab is progressing nicely for next season.
WR Locks For 110 Yards and/or 1 TD
1. Roddy White @ Carolina
2. Larry Fitzgerald vs. San Francisco
3. Steve Smith vs. Atlanta
4. Percy Harvin @ Detroit
5. Marques Colston @ Tennessee
6. Greg Jennings vs. Oakland
7. Hakeem Nicks @ Dallas
8. Vincent Jackson vs. Buffalo
9. Calvin Johnson vs. Minnesota
10. Golden Tate vs. St. Louis (super-sleeper pick)
Kicker Locks For 3-Plus Field Goals
1. Steven Hauschka vs. St. Louis
2. Billy Cundiff vs. Indianapolis
3. Ryan Longwell @ Detroit
4. Shaun Suisham vs. Cleveland
5. Nick Novak vs. Buffalo
6. Alex Henery @ Miami
YouTube Memory Lane
Back by popular demand, here's some more YouTube cheer, courtesy of a few epic NFL clips from the 1970s:
1. 1977 -- This 25-minute clip of The NFL Today on the season's final weekend (Week 14) is awesome for a few reasons:
a. Brent Musburger teases QB Billy Kilmer and the 8-5 Redskins needing some help to reach the NFC playoffs. Washington would defeat the L.A. Rams 17-14, but miss the postseason in George Allen's last regular-season game as an NFL head coach. But let's focus on this: On that day in December 1977, Kilmer was roughly the same age of yours truly ... but could have easily passed for a 47-year-old man when captured by the CBS cameras. That tells me one of two things: Either Kilmer did a lot of living in his first 38 years ... or life was harder for people born in the 1930s -- compared to Atari-playing, VCR-watching, Fruity Pebbles-devouring smart-alecks born in the 70s. As Grandpa Simpson might say, the answer is A little from Column A ... a little from Column B!
b. In an on-campus, sit-down interview with Cowboys personnel guru Gil Brandt, The NFL Today's Irv Cross breaks down the top prospects for the upcoming 1978 draft -- such as TE Ozzie Newsome (Alabama), QB Doug Williams (Grambling), WR Wes Chandler (Florida), RB Terry Miller (Oklahoma State) and Heisman winner Earl Campbell. During the conversation, notice how candid Brandt is about the draftees and how Dallas -- the eventual Super Bowl champion -- wouldn't mind trading up to get Newsome or even Campbell. You would NEVER hear a modern-day team speak so openly about their hush-hush plans for the April draft; and yet, Brandt was essentially an open book about the club's modus operandi. Speaking of which, CBS commits a heinous, SportsCenter-esque crime of dreaming about a Tony Dorsett/Earl Campbell backfield for the Cowboys ... with Cross and Musburger surmising that Dallas might be willing to trade backup QB Danny White to Tampa Bay for the No. 1 overall pick. Seriously, how dense were people back then? Why on earth would the Buccaneers (and personnel exec Ron Wolf) possibly surrender the first pick in a superstar-laden draft for Danny Freaking White ... who, at the time, had completed 17-of-30 professional passes for 248 yards and two touchdowns? Ugh! It's easy to loathe sports networks sometimes. This irresponsible speculation reeks of ESPN openly pining for Chris Paul and Dwight Howard to join the Lakers ... even though Los Angeles has only one tradeable asset to complete a blockbuster deal with a rebuilding franchise: Andrew Bynum.
c. Phyllis George gets up close and personal with Rams defender Isiah Robertson ... in an interview that culminated with Robertson tackling the petite George (with uniform and helmet). It's funny stuff ... until George confessed to NFL Films 25 years later (2002) that Robertson never got the opportunity to lay her out at the Rams practice -- since George got stuck in Los Angeles traffic and missed the filming altogether. In the biz, we call this, uh, creative editing ... despite Musburger's post-piece claim of "No fake photography involved." Liar!
d. There are no words for Jimmy 'The Greek' Snyder's powder-blue leisure suit. And yet ... I can't look away.
2. 1979 -- The first half of an interesting Bucs-Vikings clash and one of Tampa Bay's signature road victories from a stunning worst-to-first turnaround in '79. At the time, the nation wasn't exactly all-in on the Buccaneers' 6-2 start -- since the expansion club was only two years removed from a 26-game losing streak -- and the NFL was still 14 years away from unrestricted free agency. And yet, this win at venerable Metropolitan Stadium (the current site of the Mall of America) went a long way toward establishing Tampa Bay as a viable Super Bowl threat. Check out the weather in Bloomington on this late October day: Sunny and in the 60s ... and check out the Buccaneers' beloved white uniforms (with red-and-creamsicle trim). If not for the atrocious Errol Flynn-esque logo on the helmet ... no one would have said boo about the cheery duds. Ever.
Target Practice
These 21 wideouts have collected at least 35 receiving targets since Week 9 (at least 7 per game):
1. Roddy White, Falcons-- 58 Targets
2. Victor Cruz, Giants -- 53 Targets
3. Larry Fitzgerald, Cardinals -- 50 Targets
4. Brandon Lloyd, Rams -- 48 Targets
5. Dwayne Bowe, Chiefs -- 46
6. Wes Welker, Patriots -- 44
7. Mike Williams, Buccaneers -- 44
8. Dez Bryant, Cowboys -- 43
9. Calvin Johnson, Lions -- 43
10. Greg Little, Browns -- 42
11. Steve Breaston, Chiefs -- 40
12. Santonio Holmes, Jets -- 40
13. Steve Johnson, Bills-- 40
14. Brandon Marshall, Dolphins -- 39
15. Greg Jennings, Packers -- 38
16. Laurent Robinson, Cowboys -- 37
17. Vincent Jackson, Chargers -- 36
18. Damian Williams, Titans -- 36
19. Plaxico Burress, Jets -- 35
20. Hakeem Nicks, Giants -- 35
21. Jerome Simpson, Bengals -- 35
The Relentless Pursuit Of Perfection
This is my idea of a perfect fantasy lineup for Week 14:
QB Eli Manning
RB Chris Johnson
RB Ray Rice
WR Calvin Johnson
WR Percy Harvin
RB/WR Marshawn Lynch
TE Antonio Gates
PK Steven Hauschka (Seattle)
D/ST Baltimore Ravens
I Cannot Leave Without Wishing ...
Everyone good luck in the playoffs ... except Tony Bahu and Cory McCartney!
An award-winning fantasy writer with Sports Illustrated (2008-2010) before joining the National Football Post, Jay Clemons' Fantasy Philanthropist Blog can be found here every Monday and Thursday during the regular season. Clemons can be reached, day or night, via Twitter.