The nearly five month NFL lockout had some bright side for NFL front offices, allowing for no "me time" this offseason, as players and agents were not allowed contact with their teams. However, it did not stop players from ruminating upon their individual contracts – it wouldn't be NFL training camp without some contract angst among the labor force. This year's disgruntled bunch (hoping to become gruntled?) includes DeSean Jackson, Osi Umenyiora, Matt Forte, Cortland Finnegan and Chris Johnson.
These players – all under contract – feel they have outperformed their existing deals and the market has passed them by. For Jackson, Johnson and Forte, those deals are still their rookie contracts, an issue that was dealt with in the CBA -- lowering the top deals without addressing the bargains that most rookie contracts, such as those of these three players, truly are.
At least we haven't yet heard (and we will): "It's not about the money," which, of course, means, "It's all about the money." Speaking of which…
The 30% stifle
Last season, the 30% rule – prohibiting clubs from paying a player more than 30% of his previous year's salary – limited teams from extending young players. I explained the rule here using Johnson as an example. Teams hid behind the 30% rule and the surrounding labor uncertainty, leaving ascending players unable to capitalize on their performance.
The Titans opted for a quick-fix solution with Johnson, advancing about $1.5 million of future money to buttress his 2010 salary of $550,000. However, this temporary band-aid has fallen off.
New forfeitures
The penalties for veteran holdouts this season are $30,000 per day. Johnson is the only player now racking up these fines, although I sense these penalties will vanish when he is negotiates a new deal, which he will soon. In their recruiting pitch to quarterback Matt Hasselbeck, the Titans were clear that Johnson would not be missing any meaningful games.
Along with the increased fines, Owners negotiated Article IV § 9 in the new CBA: "forfeitable breaches" of bonus money resulting from (1) holdouts; (2) unavailability due to arrest; (3) non-football injury; and (4) voluntarily retirement.
The pool of a player's money ("forfeitable salary allocation") susceptible to forfeiture includes the applicable season's signing bonus, roster bonus, option bonus and reporting bonus.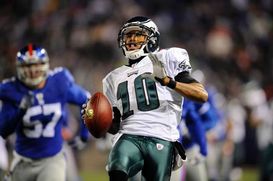 ICONJackson reported to camp in time for a free agency credit.
The new CBA restores the prior CBA's free agency rules, granting players with four accrued seasons eligibility for free agency. As of yesterday (August 9th) players holding out from camp lose a year of pension vesting and free agency credit, which will have detrimental effects on their careers.
This had more meaning for Jackson, signed through 2011, as opposed to Johnson, who has another year left on his contract after this season and will certainly have a deal before then. Thus, the August 9th deadline appears, at first blush, to be working against veteran holdouts.
Team response
Players and agents hope to cause angst and distraction to merit a response from the front office and divert the focus of media attention.
Having dealt with a few of these situations over the years – Mike McKenzie and Javon Walker, among others at the Packers, and Sheldon Brown at the Eagles – I know the drill. Every team in the NFL confronts this, some more publicly than others.
We have seen teams take different reactions to player discontent. As told through HBO's Hard Knocks last season, the Jets were clearly affected and moved to action regarding Darelle Revis. In contrast, Chargers' general manager AJ Smith was indignant about the grumblings of Vincent Jackson. And the Patriots' Bill Belichick let abrasive comments from Logan Mankins simply fall to the ground without response.
As to this year's group, the teams have wisely been nonresponsive. The worst thing a team can do is engage a discontented player, especially through the media. The less done publicly the better.
The team can do one of three things when faced with these: (1) nothing; (2) rip up the existing contract and replace it with a new one to the player's liking, or (3) something in between.
In my time in Green Bay, we did the "something in between". We added money that was "earnable" – per-game roster bonuses, workout bonuses, incentives, etc. – rather than simply adding guarantees in the form of bonuses. It was neither what the player nor the team desired, but it was a workable compromise. I did these kinds of deals for players such as Donald Driver, Al Harris, Mark Tauscher, and others.
All eyes watching
In these situations, it is never about one player; the locker room is watching. For every player whose contract is adjusted or replaced, there are going to be three others thinking they deserve similar treatment. Sure, a front office can say that this particular player is different or a special case for one reason or another, but no player ever believes that.
Whatever happens in the coming days and weeks between the teams and these players will now serve as a way of doing business for the team. If, for example, the Giants – as speculated – shave a year off of Osi Umenyiora's contract, there will be several requests to do the same, whether now or in the future. If they do not, players will know seeking a new contract is a futile endeavor.
Fans, media and most importantly, teammates are watching.
Follow me on Twitter at adbrandt.
NFP's Introduction to Scouting Class is now registering for our Winter sessions! Save $200 if you register before December 20th! REGISTER NOW!