One component I think we missed out on in the last CBA deal was improvement in protocol for protecting our players. The last CBA made great strides in improving what was an archaic system of care. Now players have access to their own medical records, the rights to a second opinion and the rights to their own treatment options.
In the most recent CBA negotiations, the players took a "preventative" approach on limiting injuries by eliminating some off-season workouts, full contact practices, and bringing more needed attention and care to the treatment of concussion.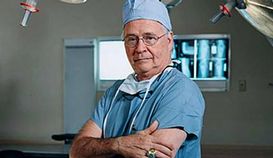 Players usually choose their own doctors for repairs and Dr. James Andrews is considered one of the best.
However, players still don't get the type of treatment they deserve in maintaining and managing their bodies throughout the season. The range of treatment players receive from team doctors and their trainers varies greatly from team to team. While some clubs have it right and will do what's in the long term best interest of the health of the player, others serve the best interests of the club. While there are brilliant doctors and trainers in the NFL, many players seek treatment outside of their trainers reach and have little confidence in the team doctor.
Don't be seen in the training room
Believe it or not, several old school thinking coaches make it clear that they don't want to see their players in the training room. Some have gone so far as to make direct fun of them in front of the entire team. Others will just stop communicating to the players entirely while they spend time with the trainers. It is not like this with every team but after comparing notes with a few well-respected agents who represent top players, we believe 40% of all NFL teams are still working in the dark ages.
Intimidation in the training room
I had a rookie client call me recently and say that he has a stinger and can't move his right arm or turn his neck to the right. He said he didn't tell the trainer because the last rookie who reported one was cut a week later. He also said one of the vets on the team told him "to take care of it on his own because the head coach will think you are p*ssy". He told me he was playing and practicing like crap because of it. So his conundrum, like every single young player not drafted in the first round has to battle through, was to keep playing through the injury and thus medicating heavily while his quality of play suffers. Or, tell the trainers and coaches, get treatment, miss practice time and risk losing his position and job security. Players have to go through this process several times in their career.
Different treatment for different players
If you are not a high profile starter you won't get the best treatment a team can offer. The superstars get treated better in most training rooms. On the contrary, players bringing up the bottom of the roster are expected to take as little time and resources from the trainers. I have witnessed teams who are reluctant to give players a much needed MRI or x-ray or even send them to the team doctor. Many times the agent has to get involved and request an MRI or a second opinion. When this happens the player will really get the cold shoulder or even be criticized by a coach or trainer for getting us involved. When an expendable or marginal player does get hurt, some teams use a formula to get them back on the practice field, practicing on tape and then cut them while still injured. The reason they make them practice while injured is to have evidence on tape that the player was healthy enough to practice or play. This evidence will help their case in an injury grievance or workman's comp claim. Unfortunately, these orders come from ownership as they always are purging their rosters of injury liability. The GM, trainers and coaches of these particular clubs have to support their plan.
A dangerous cycle begins
When players play with painful injuries, they start the cycle of medicating with Vicodin, Celebrex, Indocin, and use caffeine laden drinks and supplements to get them through the week. Toradol is saved for game day. All are part of a reliable cocktail that keeps the body well enough to get through the week and be ready for Sunday. NFL football is a tough sport on the body and playing with pain comes along with the job and some players are just too tough for their own good.
GM and agents forced to play doctor under current system
When a player is hurt during camp the team and agent usually work towards an injury settlement. The spirit of the deal is to try to project how long it will take the player to fully recover, and then, match a salary to that time frame. If the player has a high ankle sprain the team says it may take 3 to 5 weeks to heal. The agents' second opinion doctors say it may be 8 to 12 weeks. The negotiations begin. The whole protocol is subjective and abstract. Younger agents and players usually get worked over in these scenarios. There has to be a method created to take the process out of the agents and GM's hand and into the hands of medical experts.
Conflict for trainers
Trainers and doctors are paid by the team to do what's in the best interests of the team. The faster they can get the players back on the field the more job security they are going to have. The more they do to protect the team from liability the more loyal their owners are going to be to them.
In fairness to the clubs, I do have to say that there are some players who know they are going to be cut and fake injuries to get an injury settlement. The trainers have to weed these guys out and protect their clubs from fraud.
I think team reps, agents, the NFLPA and vets have to keep pushing the owners for better treatment and move player medical care into the 21st century. There are many teams who really treat players well and give them the best medical treatment money can buy, but it's far from uniform across the league.
Follow me on Twitter: @jackbechta
NFP's Introduction to Scouting Class is now registering for our Winter sessions! Save $200 if you register before December 20th! REGISTER NOW!