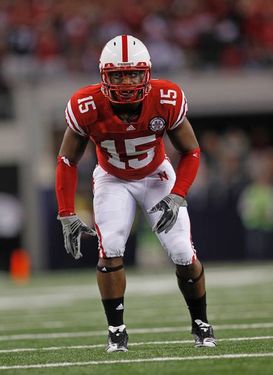 ICONDennard is an NFL ready corner because of his physical play.
17. Cincinnati Bengals: Nebraska CB Alfonzo Dennard
Dennard offers the Bengals the ability to be physical and play press on the outside, as well as potentially kick inside to the nickel in third down situations. He's a good value here and should instantly be able to make an impact in their secondary.
18. San Diego Chargers: Southern Cal DE/OLB Nick Perry
3-4 teams are always looking for talented pass rushers and Perry has the skill set to be an impact guy. He's an explosive athlete with a good first step and sneaky power to his game. He's a bit linear, but from a two-point stance he could mature into a real terror.
19. Chicago Bears: Notre Dame WR Michael Floyd
Floyd has some character concerns and isn't the most dynamic of athletes. However, he's a guy capable of running the entire route tree, beating press coverage on the outside and going up to get the football. An ideal fit for Chicago.
20. Tennessee Titans: Baylor WR Kendall Wright
Wright is one of the only top-tier receiver prospects in the class with legit straight-line speed, as he has the ability to not only take the top off the defense, but run away from corners on deep crossing routes. The Titans could play him both inside and out and would give whoever is playing quarterback there next year one of the top receiving cores in the league.
21. Denver Broncos: Michigan State DT Jerel Worthy
Adding a thick, powerful, penetrating type defensive tackle who can create havoc and stop plays before they start is just what the Broncos need inside. Worthy has some question marks about his motor, but if he can play with more consistency he has the talent to be one of the best to come out of the class.
22. Cincinnati Bengals: Miami RB Lamar Miller
With RB Cedric Benson closing in on 30-years old, it's time to look for some fresher legs that will be able to help him carry the load.
23. New York Giants: Stanford TE Coby Fleener
As if this offense needs another weapon on it. However, Fleener has the ability to be that every down type "on the line Y" who can create down the field, And at 6-6, 245-pounds has the size to mature into a very capable blocker.
24. Houston Texans: Alabama SS Mark Barron
Barron has the ability to be another versatile piece in Wade Phillips defense. He can play inside the box and act as an extra linebacker, he can read and react quickly in the deep half and has shown improved balance/foot quickness this year in man vs. the tight end. He's one of the few starters likely to come out of this year's safety class.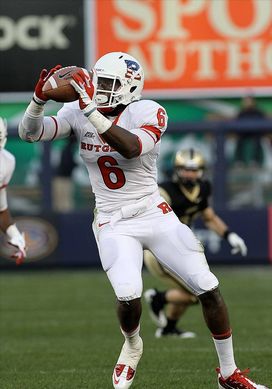 ICONSanu is a massive/ athletic target to throw to.
25. Cleveland Browns: Rutgers WR Mohamed Sanu
Sanu is as talented as any receiver in this year's draft. He's got great leaping ability, impressive balance/foot quickness for his size and can go get the football. He's still learning his trade but the upside is there for this guy to mature into a very capable starting "X" at the next level.
26. Detroit Lions: Ohio State OT Mike Adams
As long as quarterback Matthew Stafford is healthy the offense is going to score points. Therefore, bringing in an athlete capable of protecting his blind side is becoming a major need in Detroit.
27. Baltimore Ravens: Memphis DL Dontari Poe
The Ravens do a great job grooming young, talented defensive lineman who might be a bit raw, but have the talent to win in their 34 front. Poe might need some time, but long term could mature into one of the steals of the draft.
28. Pittsburgh Steelers: Iowa State OL Kelechi Osemele
He's the type of big, coordinated offensive lineman the Steelers like with the anchor strength to hold the point of attack and the versatility to play either guard or tackle at the next level.
29. New England Patriots: Clemson DT Brandon Thompson
Thompson is a potential three down lineman at the next level who can play both the nose and three technique inside for the Patriots in their 43 front.
30. San Francisco 49ers: Nebraska DE Jared Crick
Crick is the type of tough, hard working lineman that head coach Jim Harbaugh wants on his team. He's 6-4, 290 and has the length to fend off blocks as a five-technique and has a great role model in Justin Smith to learn from.
31. New England Patriots: Wisconsin OL Peter Konz
Konz is the type of safe, NFL ready type first round pick the Patriots love. He's got the ability to play both center and guard at the next level and gives New England some options inside.
32. Green Bay Packers: West Virginia OLB Bruce Irvin
Irvin played out of position during his time at West Virginia. However, he's got an explosive first step, can change directions as a pass rusher and could be the one guy who flies up draft boards this post-season.
Follow me on twitter: @WesBunting
Check out the NFP Draft Page here...