Indianapolis— News and notes from the offensive line group…

• Stanford OG David DeCastro didn't lace the fastest of 40 times, running in the 5.3 range. However, he looked very coordinated during positional drills. He was able to keep his base down, maintain balance laterally and showcased "plus" change of direction skills. Honestly, if I had a need at guard, I wouldn't have any qualms using a top ten pick on this him.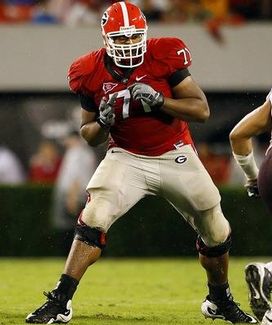 ICONGlenn worked out better than most thought.
• Another guy on the rise was Georgia OL Cordy Glenn. It's rare of see a guy at his dimensions (6-5, 345) run in the sub 5.0 range. Glenn possesses "plus" length (35 ¾) as well and despite not being the most fleet of feet laterally, you can still see the initial quickness/burst needed to get off the ball and into contact quickly. Looks like a lock for the top 20.

• It was a strong performance from Illinois OL Jeff Allen as well today. Allen ran in the mid 5.1 range and also showcased good athleticism when asked to pull and get out on the move. And at 6-4, 307-pounds he exhibited good length for the guard position (33.5) and showcased natural strength on the bench (26 reps).

• When you watch Cal (PA) OL Rishaw Johnson you see a lineman who looks the part. He's rangy, can pull and is a "plus" athlete in space. However, he really struggled with balance laterally during positional drills and his footwork too often gets inconsistent, causing him to struggle changing directions.
• USC OT Matt Kalil all but locked up his spot in the top three picks with an impressive workout. The 6-7, 305-pound lineman posted an impressive sub five-second 40 time and looked really explosive off the ball. He's got the ability to bend, keep his pad level down and looks like the kind of athlete capable of keeping the blind side clean at the next level.

• Iowa State OT Kelechi Osemele was also really explosive off the ball. He ran in the 5.1 range at 6-6, 333-pounds and possesses elite length at nearly 36-inches.

• Midwestern State OL Amini Silatolu didn't run the most impressive of 40 times (5.4 range). However, he showcased the ability to drop his pad level, maintain his balance and cleanly change directions laterally during position drills. He's got an explosive element to his game when asked to mirror/re-direct and looks like a guy capable of starting early during his NFL career.

• Finally, small school tackle Tom Compton from South Dakota continued his strong post-season. He displayed better athleticism than I anticipated with a ten-yard split of 1.69 (one of the fastest times posted in the offensive line group) and an explosive nine-foot broad jump. He an intriguing later round type guy who has the skill set to mature into fringe starting type lineman.
Follow me on twitter: @WesBunting
Check out the NFP Draft page here...