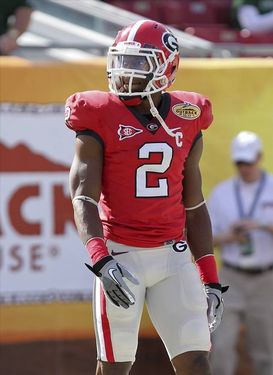 ICONBoykin could play both inside or out at the next level.
6. CB Brandon Boykin: Georgia (5-10, 183)
Plays much bigger/strong than his frame would indicate. Has the ability to press on the edge, but might be better suited to play as a slot guy in the NFL. Either way can play a role on a defense in either a man or zone scheme.

7. CB Casey Hayward: Vanderbilt (5-11, 188)
A smart, productive corner who can consistently make plays on the football. He's not a guy who will consistently hold up in man on the outside in the NFL. However, he's shown the ability to routinely get early jumps on the football and come down with the catch. Looks like one of the safer prospects in the draft as a cover two type guy.

8. CB Josh Norman: Coastal Carolina (6-0, 190)
Talent says he's a top-60 pick, but there are some character concerns that could cause him to fall. Either way he has the talent to quickly match-up with NFL receiver at the next level.

9. FS Markelle Martin: Oklahoma State (6-1, 198)
A gifted athlete with a good burst and range in the deep half. However, wastes motion out of his breaks and isn't a very good open field tackler. Possesses slightly above-average instincts, but will make more plays on the football when he tightens up his footwork. A potential starter only at this stage because of his intriguing athleticism.

10. CB Jamell Fleming: Oklahoma (5-11, 191)
He's a balanced, coordinated kid who keeps his feet under him when changing directions and can turn and run. Doesn't give up much separation, knows how to make plays on the football and if he can improve as a tackler looks like a guy who warrants a starting job in the NFL down the line.