Tier 4

Jerel Worthy: Michigan State (6-3, 310)
A talented kid with a thick frame, "plus" get off burst and snap awareness to his game. However, doesn't shed blocks well when engaged and lacks ideal anchor ability inside. Looks like a one-gap type lineman only who could give solid reps at both nose and three-technique in a 43 front. But is going to need some time before he's ready to start.

Tier 5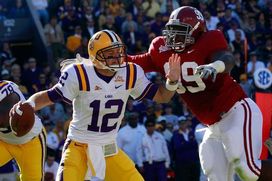 ICONChapman could fall due to health issues.
Josh Chapman: Alabama (6-1, 310)
Has the making of a starting caliber nose at the next level in either a 3-4 and 4-3 front. Can consistently anchor on contact, is long armed and tough to move off the football. Also, is a better pass rusher than given credit for. Will likely fall because of medical concerns, but could be a real bargain because of it.

DaJohn Harris: Southern California (6-4, 310)
Improved his pad level, balance and hand usage as a senior and looks like one of the better senior DT prospects. Looks like an intriguing rotational guy with some long term upside to start.

Kendall Reyes: Connecticut (6-4, 295)
Displays some natural talent and did a better job at Senior Bowl playing with a lower pad level. If he can continue to play lower should be able to fight for a starting role in both a 34 or 43 scheme as a three or five technique.

Mike Martin: Michigan (6-2, 304)
The kind of prospect you don't want to bet against. Is limited and doesn't have the kind of frame to get all that bigger, but I can see him working his way into a rotation as a 43 nose in the NFL and being the kind of guy coaches love.