Tier 4

Kelechi Osemele: Iowa State (6-6, 347)
A big, thick kid with natural strength, athleticism and flexibility. Has improved his technique and overall range off the edge, but is better suited to play inside or on the right side at the next level.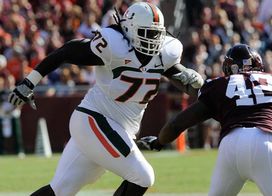 ICONWashington is another lineman better suited to play guard.
Brandon Washington: Miami (6-4, 320)
The talent is there for this guy to mature into a guard you can win with consistently inside at the next level. He needs to improve his pad level in the in-line game and tighten up his footwork in all areas. However, with a year of seasoning he certainly should mature into an above-average guard in the NFL with the talent to start at right

Jeff Allen: Illinois (6-5, 315)
He's not an overpowering run blocker, but can bend, gain leverage and seal inside. He's smooth and coordinated in pass protection, can keep his base down and warrants a higher grade because of it. Needs to play inside at the next level, but looks like a guy who can start in the league.

Lucas Nix: Pittsburgh (6-6, 310)
A good athlete for the position who can win in the pass game and seal lanes inside as a run blocker as well. Has some upside as a power play moving lineman off the ball and looks like a capable starter in the NFL.

Tier 5

Tony Bergstrom: Utah (6-6, 315)
A big, strong tackle/guard prospect with some short area quickness for his size. But struggles with flexibility in pass protection and looks limited in what he can offer an NFL offense. However, looks more coordinated and plays lower as a guard and looks like that is where his future lies in the NFL.

Senio Kelemete: Washington (6-4, 301)
A gifted athlete with a strong base, strong hands and a passion for the game. Needs to clean up his footwork and his body type makes me think he's more of a guard only prospect.

Derek Dennis: Temple (6-5, 328)
Is worth a mid round pick because he moves so well for a 325-pound lineman. Needs to learn to play lower though if he ever hopes to be anything more than a reserve. However, his fluidity on the move says he has a chance to mature into a starter.