Tier 4

Mitchell Schwartz: California (6-6, 318)
Displays solid athletic ability, but looks better suited to play on the right side in the NFL vs. less speed. A nice early/mid round type draft pick who should eventually fight for playing time.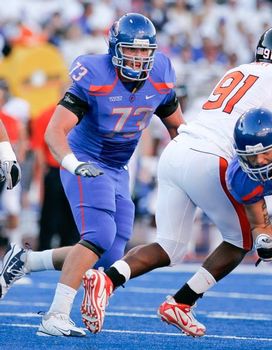 ICONPotter has been impressive all post-season.
Nate Potter: Boise State (6-6, 300)
Potter, in my book, is a poor man's version of former Boston College LT Anthony Castonzo, as he has the talent to earn a starting job in more of a zone scheme, but is going to need a year or two before he's ready physically to mature into the player he's capable of becoming.

Matt McCants: Alabama-Birmingham (6-7, 295)
McCants possesses a great looking frame that has the ability to get bigger and mature physically. Athletically, all the tools are there for this kid to play left tackle in the NFL, he just needs some time to make the jump in competition and mature physically.

Brandon Mosley: Auburn (6-6, 305)
A tough kid who plays hard, likes to finish and understands angles in the pass game. Has some upside down the line coming from a JUCO program in 2010, but as of now looks like a roster guy in year one who could fight for playing time down the line. Reminds me some of former UVA OT Will Barker.

Tier 5

Andrew Datko: Florida State (6-6, 321)
He's a solid athlete who can bend, re-direct and block in space. However, he's had some struggles with power when trying to stay engaged and hasn't been able to stay healthy throughout his career. Nevertheless, in a weak offensive tackle class, he's one of the few prospects that possess the skill set to start in the NFL.

Markus Zusevics: Iowa (6-5, 300)
A "plus" run blocker who more than held his own in the pass game. He quickly gets off the football, generates a snap into contact and improved his pad level into/out of his stance as the year went on. Zusevics looks like a potential starting caliber offensive lineman -either at guard or tackle- in the NFL with a year or two of seasoning, but has limited upside.

Zebrie Sanders: Florida State (6-6, 307)
A natural athlete who can bend and is athletic. However, struggles with power and makes too many lineman look like good pass rushers toward the edge because of it. Needs to get stronger to have a chance.
Check out the NFP Draft page here...