Tier 4
Brock Osweiler: Arizona State (6-8, 240)
If everything falls into place for Osweiler, meaning he develops as a quarterback mentally, has time to work at his trade and falls into a perfect fit for him physically (Steelers, Eagles, Raiders) he does have the talent to eventually fight for a starting job in the NFL. However, he rates much closer to a developmental later round pick and reminds me some of Cardinals QB John Skelton.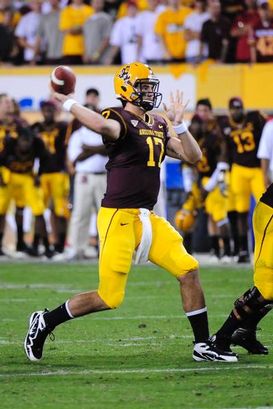 ICONOsweiler can really spin the football.
B.J Coleman: Tennessee-Chattanooga (6-4, 220)
He needs to improve his footwork from the gun and from center before he's ready for the NFL game. However, Coleman has a good skill set, can make all the throws and is an intriguing developmental kid with a "plus" upside.
Tier 5
Aaron Corp: Richmond (6-4, 215)
He has a nice sized frame and throws a pretty football. He's going to need some time, but is worth a draftable grade.
Russell Wilson: Wisconsin (5-11, 210)
Wilson is a plus athlete who can spin the football and gives you a nice run/pass threat. However he's undersized, is going to struggle to consistently make plays from the pocket and is still learning how to work his way through defenses. He is worth a pick late, but I don't see the guy as a potential starter in the NFL. Reserve only.
Ryan Lindley: San Diego State (6-4, 230)
Lindley is certainly worth a draft pick and has the skill set to go somewhere in the mid round range. However, if he doesn't improve his overall footwork/coordination from the pocket, it's going to be tough for him to make plays in the NFL when he doesn't have a clean pocket.