Tier 4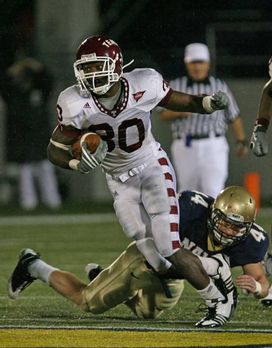 ICONPierce is a smooth back with a natrual feel.
Bernard Pierce: Temple (6-0, 218)
Possesses good size, natural feel inside and some good cut back ability. Isn't real powerful though and runs a bit upright. Doesn't look like a great fit for an angle scheme at the next level like they ran at Temple. Is more of a zone guy in the NFL because of his vision and cut back ability. Could fight for a starting job over time, but might be better suited to play the number two role.

Cyrus Gray: Texas A&M (5-10, 200)
An instinctive, well put together back with natural running skills inside. Isn't ever going to be a cowbell back at the next level and isn't overly dynamic in the open field. But can be productive in a two back system in the NFL.

Tier 5

LaMichael James: Oregon (5-9, 195)
A quick footed, fluid scat back who doesn't break many tackles, but has the ability to make NFL defender miss and accelerate quickly toward daylight. Will be limited inside, but as a 3rd down/special teams type option I think he can be a better NFL runner than Falcons 5th round pick Jacquizz Rodgers because of his ability to make defenders miss consistently.

Isaiah Pead: Cincinnati (5-11, 200)
An explosive running back with the initial burst to press space quickly, put his foot in the ground and side step a defender. However, isn't natural inside between the tackles and isn't going to create on his own if there isn't a big hole there. A space runner who will be looked at as more of a zone guy or third down back to most teams.