Tier 4

Devon Wylie: Fresno State (5-9, 185)
Is limited a bit by his size, but is the kind of cat-quick slot guy with great ball skills who can make a living in the NFL. The major positive with him is that he also has very good speed as well.

Joe Adams: Arkansas (5-11, 190)
An explosive athlete who can go get the football down the field and has some savvy to his game setting up routes. However, is inconsistent catching the football and as a route runner. Nevertheless, does enough well to make a roster and see early playing time inside and outside. An ideal fit for Philadelphia running the deep crossers.

Jarius Wright: Arkansas (5-10, 180)
A coordinated athlete who is sharp as a route runner, tough over the middle and knows how to get open vs. man and zone. Will get re-routed vs. press at times and looks more like an inside player at the next level, but has the skill set to make a roster and carve out a big niche early.

Tier 5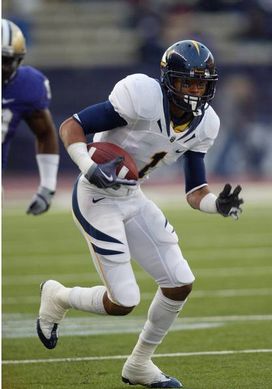 ICONJones showcases the ability to run the entire route tree.
Marvin Jones: California (6-3, 202)
Possesses good size, good body control and hand eye coordination, and for his size is a pretty fluid athlete as well. Isn't a dynamic athlete, but should be able to find a way to make and earn playing time on an NFL roster.

Rueben Randle: Louisiana State (6-4, 208)
Possesses that sneaky strider speed down the field and has some savvy to his game. However, lacks great burst out of his breaks and isn't going to be effective running sharply breaking routes. Looks like a potential NFL starter only.

Nick Toon: Wisconsin (6-3, 220)
I like his size, short area quickness and ability to adjust to the football. Isn't a guy who is going to create consistently down the field, but knows how to gain enough separation, pluck and create after the catch. Looks like a guy who can play on the outside as a legit number two wide out running the inward breaking routes with some time, but isn't ever going to be a dynamic playmaker.

Alshon Jeffery: South Carolina (6-4, 229)
Jeffery looks like a more dynamic version of Seahawks wide out Mike Williams who will be limited in the routes he can run (fade, slant, post, corner) at the next level. But can still be successful as the "Z" receiver where he will be put in motion and used a lot in two man routes with the tight end running vertical and adjusting to the throw. However, he's never going to be overly productive due to his inability to separate consistently of his breaks.

Marvin McNutt: Iowa (6-4, 215)
A tall, long armed receiver who can win off the line and use his big frame to box and go get the football. A big target who looks capable of fighting for a starting role now at the next level. However, is never going to be a guy who separates a ton in any area of the game.
Check out the NFP Draft page here...