Tier 4

Trenton Robinson: Michigan State (5-10, 195)
Is coordinated and can keep his feet under him, but looks tighter when asked to turn and run. Tackles well and looks like at best a low end starter who needs to play in tighter areas to be effective in coverage.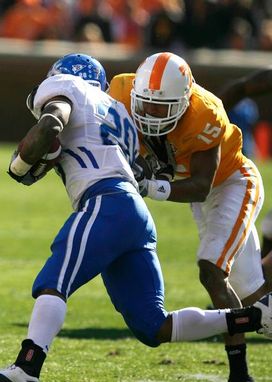 ICONJackson has some talent, but there are concerns off the field.
Aaron Henry: Wisconsin (6-0, 210)
A good-sized kid with some natural cover skills and range, but is still learning the mental nuances of the game. Still developing at the position, but skill set says potential starter.

Tier 5

Tony Dye: UCLA (6-0, 216)
Isn't an elite athlete, but plays faster than he times. Will tackle consistently and is coordinated in coverage. Looks like a potential special teams stud who with some time could fight his way into a starting line-up as a strong safety. However, medical concerns will likely cause him to fall.

Janzen Jackson: McNeese State (6-0, 190)
A talented kid who can run, track the football and can be a violent striker on contact. However, isn't the most sound of wrap-up guys, is raw with his footwork and has character concerns. Nevertheless, has the talent to play in the NFL and should get a shot because of his ability to run and strike.