NFP's Introduction to Scouting Class is now registering for our next session! Early bird pricing in effect until February 15th! Save $100 and REGISTER NOW!
The NFL's recent purchase of the Regional Combines is giving exposure to thousands of players who may have been overlooked.
With the help of thousands of bloggers, websites, and their writers, college football is covered like never before. A derivative benefit of the mass coverage is that talented football players are getting more exposure than ever before. However, with all the coverage along with the resources teams invest into scouting, not every player gets to be seen, evaluated and given a chance to show their skills in front of NFL scouts and/or be invited to the Combine in Indy.
Ray Anderson, Executive VP of football operations for the NFL, took notice of this long ago when he was an agent. He understands that the current system along with the Combine still misses on potential prospects. Therefore, he and the league office initiated a complimentary system that increases the player pool by using the same evaluation process as the Indy Combine.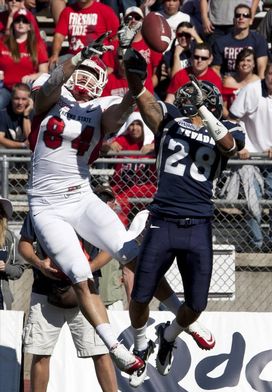 Isaiah Frey (DB, Nevada) was one of the four players who participated in the Regional Combines that was drafted this year.
In purchasing the Regional Combine the league is helping teams' scouting staffs help themselves. Before the NFL purchased Regional Combines from Steve Austin, Regional Combines (formerly known as Scout Camp) didn't have the credibility it needed to attract scouts from 32 NFL teams. Although an effective tool for other leagues, NFL people will tell you they rarely used the services. However, with the NFL shield now behind the Regional Combines and being managed by former VP of football operations for the Falcons and longtime scouting veteran Ron Hill, the format is starting to make an impact on the scouting process and creating more opportunities for players to be seen.
The Regional Combines work like this; there are 8 combines held around the country at NFL team facilities (and one in Orange County). Players or their agents pay a fee of $190 ($250 for kickers/punters) to send their players to be worked out just like at the NFL Combine in Indianapolis. Those players who impress the current and former collection of top NFL personnel men are then invited to a Super Combine held in Detroit. According to Ron Hill, there were 162 players invited this year. Of those players, and the some odd two thousand that attended the Regional Combines, four were drafted (Isaiah Frey DB of Nevada, Jonte Green DB NMS, Greg Zuerlein K Missouri Western, and Christo Bilukidi DT of Georgia State), all in the sixth round. Additionally there were another 63 who were signed as undrafted or street free agents.
This year, 52 scouts attended the Super Combine and every team was represented. Don't be surprised if more teams increase their coverage of the super combine by sending their entire staff or at minimum several more scouts.
With a partnership/sponsorship in place with the Navy Seals, the elite arm of the Navy is also scouting players attending the Combines. The USA coaches associations, head college coaches and the agents are all in favor of the service as it helps to give players a fair shot of being evaluated, it helps street free agents get a second chance and best of all it can give a player closure that it's time to move on. I haven't used the service yet but I will definitely recommend it NOW to players who might slip through the cracks.
Follow me on Twitter: @Jackbechta