Let's check out five things that we should watch for in tomorrow's Week 13 Sunday NFL action…
1. Roethlisberger vs. the Ravens' pressure: Stay out of 3rd and 7-plus situations. That should be an offensive goal for the Steelers. With the foot injury to Ben Roethlisberger—and an offensive line that doesn't matchup vs. the Ravens' front seven—it is key to set up manageable 3rd down situations. The playbook opens up; 3-step hot reads become an option and your QB doesn't have to wait for intermediate to deep routes to develop. Keep it simple, ride RB Rashard Mendehall and control the flow of the game. Because Ray Lewis and the Ravens will bring that overload pressure and collapse the pocket on Roethlisberger. I can't wait to watch this ballgame tomorrow night–best matchup of the season.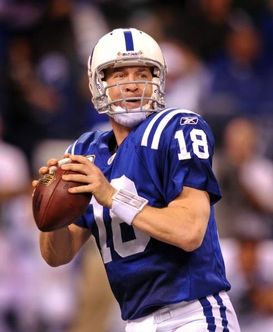 ICONPeyton Manning has throw 7 INTs in the last two weeks.
2. Peyton Manning: The Colts' QB has thrown seven interceptions is his last two games. That's a shocking number when we talk about Manning. The Indy offense to change—despite the amount of injuries they have. We will see the Ace (2 WR, 2 TE, 1 RB) and Posse (3 WE, 1 TE, 1 RB) personnel groupings and the same route combinations: flat-7, 4 verticals, china-dig, etc. However, we do need to see some sort of production from the running back position. Indy is a one-back offense. Run the inside and outside zone with Donald Brown and give Manning more options when he drops back to throw. The Colts' QB can eat up the Cowboys' secondary, but he needs some help from the ground game.
Click here for a chalkboard breakdown for two of the top route concepts in the Indy offense.
3. The K.C. offense: The Chiefs rolled up over 500-yards of total offense in the win over Seattle last Sunday. Should tomorrow be any different against that Broncos' defense? Kansas City is producing under Charlie Weis because they can run the football with Jamaal Charles and because of their QB play—which translates into vertical routes to WR Dwayne Bowe. Even with the Chargers starting to make that late season run, the Chiefs are going to be a tough matchup every Sunday, and I don't see how that Denver defense is going to slow them down. Their front seven is soft and with the injuries ion the secondary, I would expect Matt Cassel to have another productive afternoon.
4. The Niners' run game: This won't be the Arizona defense that San Fran saw on Monday night when they line up against Green Bay at Lambeau. However, the Niners can learn from that Packers-Falcons tape from last Sunday. Mike Singletary's club is very similar when we talk running schemes: the Power O, Lead Open, Lead Strong, Counter OF, etc. That didn't change when Brian Westbrook came into the game for Frank Gore on Monday. Downhill power plays that the Packers struggled with in the loss to the Falcons. This has to be the game plan for San Fran.
5. Matt Ryan: Can he continue to play near perfect football outside of the Georgia Dome against a Tampa team that competes every Sunday? What impresses me the most with Ryan is his decision making—which comes with control of the pocket. He understands defensive concepts and protects the football. If Tampa wants to steal one here from the Falcons they have to limit RB Michael Turner and take some risks in the secondary on third downs. Play some combination coverages and try to bait Ryan into making a poor throw. Isn't going to be easy and that is why we are talking about the Atlanta QB has an MVP candidate.
Check back to the NFP tomorrow for my post game notes following the early and late kickoffs.
Follow me on Twitter: MattBowen41