With the Cowboys getting the win over the Giants on opening night of the 2012 season, let's take a look ahead to Sunday's Week 1 schedule in the NFL. Five matchups I am focused on—starting with Jimmy Graham vs. the 'Skins safeties.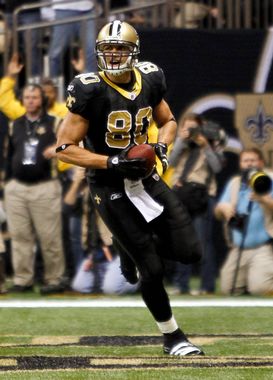 US PRESSWIREThe Saints can create matchups vs. the Redskins' safeties with TE Jimmy Graham.
1. Jimmy Graham vs. Redskins' safeties: Backside of 3x1. In the NFL that's a high alert for the slant or the fade (front side "Tare" route). The question for Washington: do they have the talent at the safety position to matchup to Graham when he is removed from the core of the formation? Think technique here when playing from a press or off-man position to have a shot vs. the TE. This Saints' offense is loaded with skill players that can create favorable matchups, but limiting Graham has to be a priority for Jim Haslett's defense.
2. Frank Gore vs. Packers' run-front: The base power game in the NFL (Power O, Counter OF, Lead, Wham, etc.) That's what I expect from Gore and the Niners to test the run front of the Green Bay defense. That leads to play action for QB Alex Smith and deep ball opportunities outside of the numbers. For the Packers, its starts with the ability to read your run-pass keys (High Hat=Pass, Low Hat=Run). Strike and shed, be sound in your run fits and wrap up. Can't allow Gore to produce after contact.
3. Peyton Manning vs. Steelers' pressure: Can the Steelers' defense force Manning to throw them one? You know what you are going to see from Dick LeBeau's unit: multiple fronts, pre-snap disguise, zone pressure, some 2-Man, etc. And the pressure is the key here. Put hits on Manning, make him dump the ball, drive down hill and tackle. Give the Broncos' QB time and he can methodically work over the secondary. I'm excited to see Manning play again.
4. Andrew Luck vs. Brian Urlacher: Think Cover 2 here. That's how I would test out the knee of the Bears' MLB. Run the inside vertical seam (Fleener, Wayne) and force Urlacher to open his hips and match speed down the field. The Bears will play some 8-Man fronts (Cover 1, Under 10, Cover 3, Zone Pressure), but on 3rd and 7-plus, I would look for Tampa 2. Force Urlacher to run and find out if he is truly healthy.
5. Jets' O-Line vs. Bills' defensive front: This Buffalo D-Line is stacked: Mario Williams, Marcell Dareus, Kyle Williams and Mark Anderson. The ability to get home with four and play some Cover 2, Cover 4 or 2-Man in the secondary vs. QB Mark Sanchez. The Jets need to win in and early down and distance situations to set up 3rd and 2-6—where they have the entire playbook to work with. Win up front, use the boot game and get some production from RB Shonn Greene. Then you can get creative on 3rd down, use Tim Tebow and move the sticks.
Follow me on Twitter: @MattBowen41
NFP's Introduction to Scouting Class is now registering for our Winter sessions! Save $200 if you register before December 20th! REGISTER NOW!