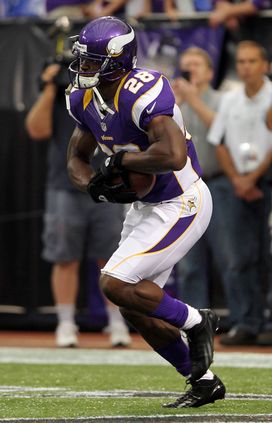 US PRESSWIREPeterson scored two TDs in his first game back after knee rehab.
6. A.P. continues to impress in his recovery: At the beginning of last week I didn't think the Vikings would dress Peterson let alone give him 17 carries during the OT win over the Jags. However, this is exactly what continues to impress me about the Vikings' RB after blowing out his knee in December and going through the rehab process. Getting back on the field after a knee injury is tough for any skill player, but with A.P. (17-84-2TDs) we are looking at a unique situation here.
7. Stafford's winning TD pass: Four verticals off of run action with counter protection (guard pull) vs. the Rams' Cover 2. But why was Kevin Smith able to walk in the end zone as a "check down" option for Stafford? In Cover 2 (or "Red" 2), the CB will sink with No.1. However, the CB here sinks with too much depth (almost in a "trail position" vs. Calvin Johnson) and vacates the flat. That's not a scheme issue. Cover 2 is a good call in this situation, but you have to play the technique of the defense to see results.
8. Schiano's Bucs: After reading all of the reports on Schiano's physical training camp this August, is anyone surprised to see the Bucs win up front and limit the Panthers' run game? I don't really know what one week tells us about a team in the NFL, but that's the start Tampa needed after seeing this club play soft and pack it in last season under Raheem Morris.
9. Edwards' dropped pass: Seattle had a chance to win this game and I love the play call on the goal line: Smash-7 (corner) vs. Cover 0 (man coverage with no safety help). Work the slot WR to the corner with the No.1 on the underneath smash route. This is smart football vs. pressure—but you have to finish the play. Can't have a drop from Braylon Edwards in that situation.
10. Replacement refs: Good and bad. That's what we are going to get until the regulars are back on the field. The timeout issue at the end of the Seattle-Arizona game was a major problem and I'm sure we can all find calls (or non-calls) throughout the day on Sunday that were questionable. Players and coaches have to manage this and just play football.
Quick hits…
- Andrew Luck had four turnovers in his first start and missed on some outside breaking routes vs. the Bears' defense. But you can't deny the tools he has at the position. He made some plays as well in Chicago.
- Is there any reason to doubt that Matt Ryan and Julio Jones are going to put up big numbers this season in Atlanta?
- I like the call from Andy Reid and the Eagles to use a "Flood" concept out of empty to beat the Browns in Cleveland, but Philly was lucky to get out of town with a win after Vicks' 4 INTs.
- Throw of the day? Matt Schaub's TD pass to Andre Johnson. Fade route with the ball on the upfield shoulder. You need perfect technique as a DB to stop that.
- Ryan Tannehill and Brandon Weeden looked (and played) like rookies. However, starting both is still the right call in Miami and Cleveland. They are going to make (multiple) mistakes—but real game experience is the best teaching tool.
- Nothing new with Tom Brady throwing TD passes to both Rob Gronkowski and Aaron Hernandez, but isn't the story today the Patriots' defense? New England held Titans' RB Chris Johnson to 4-yards…on 11 carries.
Follow me on Twitter: @MattBowen41
NFP's Introduction to Scouting Class is now registering for our Winter sessions! Save $200 if you register before December 20th! REGISTER NOW!