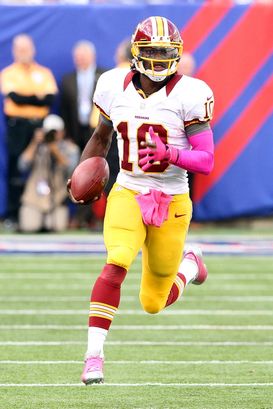 US PRESSWIRERookie QB Robert Griffin III continues to impress with his style of play.
6. RGIII's skill set: Even in the loss, you have to acknowledge the special talent of the Redskins' QB. I like what Washington is doing from a game plan perspective with Griffin (Pistol, Zone Read, WR Screen Game, Play Pass, etc.), plus look at the drive to take the 4th quarter lead. This is another example of RGIII making plays because of his skill set. The 4th down pass where he extended the pocket, the scramble for an explosive gain and the TD throw (with perfect ball placement) to Santana Moss vs. pressure. The rookie plays with a mature style when he is under stress.
7. A game ball for Ike Taylor: The Steelers CB played good football against a legit talent in Cincy's A.J. Green. Outside of the slant route for the score where Taylor jumped outside at the snap (looking for inside FS help), he limited the WR. I don't know why we didn't see the fade or some deep multiple breaking routes that targeted Green in the vertical game, but you have to get credit to Taylor and Dick LeBeau's game plan in Pittsburgh's 24-17 win. The Steelers had to get this one.
8. A.P. carries the load: If you needed a game to convince you that Peterson is back then you should have checked out the Vikings' 21-14 win over the Cardinals up north. Minnesota QB Christian Ponder really played poorly (8-17-1TD-2INT), the touches for Percy Harvin were limited and the Vikings had to run their offense through Peterson. The RB finished with 153-yards and a TD on 23 carries. Those are big numbers for A.P. against a very solid defensive unit from Arizona.
9. Hasselbeck, Chris Johnson beat the Bills: I do think Matt Hasselbeck should remain the starter at QB for this team even when Jake Locker is healthy and the pass to beat the Bills ('999' concept: 4 Verticals out of 3x1 alignment) was a veteran throw. But let's also look at the Titans' RB. This is what you get when Johnson runs without hesitation, displays vision and shows off that open field speed when he gets his pads square. He's explosive. I know it was against a under achieving Buffalo defense, but when you rush for 195-yards (on 18 carries) and score 2 TDs in this league you are playing at a high level.
10. Newton's red zone INT vs. Cowboys: Any time you are struggling to get wins, look at crucial game situations. Go back to Newton's INT inside of the 10-yard line. The Panthers wanted to use play action (QB Lead) and hit the Steve Smith on the skinny post/seam. However, with the Cowboys showing Cover 0 (blitz-man with no safety help), Newton has to get this ball out. Instead, he hesitates, is hit on the throw and the pass is picked by Morris Claiborne. Take the flat or throw it into the 10th row of the stands out of the end zone. That turnover took points off the board in the Panthers' 19-14 loss.
Follow me on Twitter: @MattBowen41
NFP's Introduction to Scouting Class is now registering for our Winter sessions! Save $200 if you register before December 20th! REGISTER NOW!