NFP's Introduction to Scouting Class is now registering for our next session! Early bird pricing in effect until February 15th! Save $100 and REGISTER NOW!
Let's run through my game notes from the Week 6 Sunday NFL schedule. Some Xs and Os, personnel, game plans, etc. Ten things you should be talking about today—starting with six TD passes from Aaron Rodgers.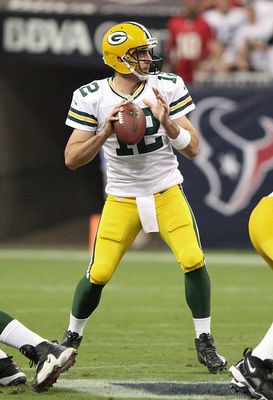 US PRESSWIRERodgers threw six TD passes as Green Bay filled up the box score in their 42-24 win over Houston.
1. Rodgers puts on a show vs. the Texans: Six TD passes vs. a Texans' defense I view as one of the top units in the league. What happened here? Look on the outside and focus on Jordy Nelson and James Jones. The Packers' WRs consistently beat man-coverage (both press and off-man) and Rodgers didn't miss much. Nelson ran the 9 (route), the Post and the 7 (corner) route for TDs with Jones winning on the underneath red zone crosser and the "Sluggo" (slant and go). Houston is going to play Cover 1 (man-free) and Cover 0 (blitz-man) in the secondary. That's what they do. But Green Bay took advantage of one-on-one situations with Rodgers playing at a high level in the Packers' 42-24 win.
2. Giants beat up on the 49ers: Look the Giants defensively. Outside of a deep post to Randy Moss, this unit limited Vernon Davis, shut down Frank Gore and put Alex Smith and this 49ers' offense in a position where they had to play from behind. The Niners' QB threw three interceptions and that led to points for Eli Manning, Ahmad Bradshaw and the New York offense. San Fran is at their best when they can grind the clock, use play action and lean on their defense. That wasn't going to happen Sunday. The Giants head back home with a solid win.
3. Sidney Rice's double-move beats the Patriots: There are plenty of angles to take with the Patriots (offensive game plan, coaching decisions at the end of the half, Brady's INTs), but let's focus on the TD pass from Russell Wilson to Sidney Rice to get Seattle the win. The Patriots were playing base Cover 2 vs. the deep double-move from Rice (corner-post). There have been plenty of safeties beat on this route in the deep half (myself included), because they want to believe the 7 (corner) route in coming. Same situation with New England's rookie safety Tavon Wilson. When Rice stemmed to the 7 cut, Wilson opened his hips. That's all it takes. Even if Wilson used a "closed angle" turn (head whip), he would still be in a trail position. A safe call from the Pats to play 2-deep if Wilson stays square, but give the credit here to Rice on a smooth route to win it.
4. RGIII continues to make plays: The rookie is dynamic. No other way to say it. Even after suffering a concussion last week, the 'Skins still went back to their game plan with Griffin because he gives you so much creativity within the offense. Look at the QB draw, the Pistol formation, etc. And we saw the impact of his 40 time (that many wanted to dismiss at the Combine as a non-factor at the QB position) on the 76-yard TD late in the 4th quarter in the Redskins' win over the Vikings. That's legit straight line speed. There is always going to be an injury risk when your QB runs in the open field, but Griffin throws for 182 and a score with 138-yards on the ground and 2 TDs. That's impressive.
5. Ravens' defense, injuries: I don't want to take away from the 5-1 Ravens after their victory over the Cowboys because these games are hard to win in this league. However, turn on the tape and you can see the issues with Baltimore defensively. They really struggle to limit the run game, get off blocks at the second level and tackle in the secondary. That's two straight weeks of giving up 200-plus on the ground for the Ravens. And with early reports that top CB Lardarius Webb has a knee (possible ACL) and veteran LB Ray Lewis could miss some time (triceps), there has to be some real concern here. With Lewis, I know the LB hasn't been playing at a consistent level, but you can't tell me he doesn't impact this defense. Let's wait for the injury updates.
CONTINUE TO PAGE 2 FOR THE REST OF MY GAME NOTES