Let's take a quick look back at the Week 17 NFL schedule. My game notes from Sunday as we close out the 2011 regular season and move on to the playoffs. Here are ten things to you should be talking about today…
1. Giants win the NFC East: Have to look at the Cowboys' secondary play because it wasn't good enough—again. Victor Cruz took a base Flat route (Curl-Flat combo) vs. Terrence Newman in man coverage for a 70-plus yard TD, plus the Giants' WRs won inside of the numbers, in the vertical game and on the goal line. Throw in the poor tackling (plus technique) from this secondary on top of their inability to play Cover 1 and there is a reason they are going home for the offseason. Eli Manning and the Giants are the better football team when you break it down.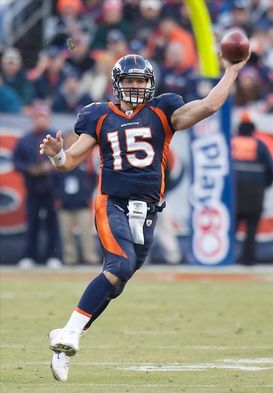 ICONThe Broncos still get the AFC West title, but need much more production from Tebow to beat the Steelers on Wild Card weekend.
2. Tebow, Broncos back into the playoffs: Denver is in the tournament after the Raiders loss to the Chargers, but there should be some concern with Tebow (6-22-60-1 INT) and this Broncos' offense heading into the post season. Option football just isn't going to get it done on Wild Card weekend when the Broncos host the Steelers. They need much more production from Tebow to have any shot to advance and he wasn't accurate with the football or comfortable in the pocket for the second straight week in the loss to K.C.
3. Matt Flynn's production—and future: Late season games can provide opportunities in multiple situations when backups get a chance to put their play on tape. And that's exactly what we saw from Flynn vs. the Lions. The Packers' No.2 QB (who is going to be a free agent this March) threw the entire route tree and finished with 480-yards to go along with 6 TDs against a team heading to the post season. Knowing how desperate NFL clubs are for talent at the QB position (think Kevin Kolb), look for Flynn to cash in this spring.
4. Saints keep rolling: The Saints might be playing the best football in the NFL right now and the numbers Drew Brees and this offense are putting up are ridiculous. To put it perspective, the Saints broke the all-time single season record for total yards (7,474) by passing the 2000 Rams. That was my rookie year in St. Louis and the best offense I have ever seen with Warner, Faulk, Bruce, Holt, etc. Eight wins in a row and a game plan that features TE Jimmy Graham and RB Darren Sproles to go along with Brees.
5. The Colts are on the clock: We are going to have plenty of time after the NFL scouting combine and in February and Andrew Luck's Pro Day at Stanford to break down the QB heading into the draft. However, with the Colts' loss to the Jags that locked up the No.1 overall pick, can you see any other scenario than Luck landing in Indy come April? The real story is finding out who will draft Baylor's Robert Griffin III…
CLICK HERE TO READ THE REST OF MY WEEK 17 GAME NOTES…