Let's run through my game notes from the Week 4 Sunday schedule in the NFL. Some Xs and Os, personnel, etc. Here are ten things you should be talking about...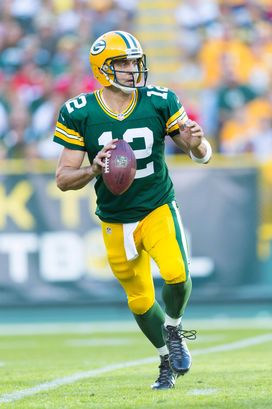 US PRESSWIRERodgers threw for 4 TDs in the Packers' 28-27 win over the Saints.
1. Packers hold on vs. the Saints: Drew Brees (446-yards, 3 TDs) came to play for New Orleans and he made plenty of big throws vs. the Packers' 2-Man and 3-deep looks on 3rd downs. But I'm looking at Rodgers and this Green Bay offense. The Packers' QB threw 4 TDs, Jordy Nelson made an impact play winning on the Slant route in the 4th quarter, Cedric Benson ran hard, Mike McCarthy got creative with Randall Cobb and James Jones caught two TDs while making a catch to ice the game that I still don't know how to defend. This game was wild. There were blown calls (and coverages). However, from the perspective of the Packers, just get the win. That's what this team needed after the Monday night debacle in Seattle.
2. Asomugha forces a crucial call in Eagles' win: The play that we should be talking about after the Eagles' 19-17 win is the OPI call on WR Ramses Barden that bumped the Giants back 10-yards and forced a missed game winning FG. Great coverage and technique here from Eagles' CB Nnamdi Asomugha vs. the 9 route. When you can "stack" on top of a WR in the vertical game, it allows you to pin them to the sideline. A technique that is coached across the league because it forces the WR to go over the top if he wants to make a play on the ball. Often times it isn't called, but because Asomugha created position here, it is the right call. And it stars with technique.
3. 49ers' whip the Jets: I can understand why there is already talk out there about Tim Tebow taking over for Mark Sanchez after seeing the Niners handle Rex Ryan's club 34-0 on Sunday. San Fran's defense held the Jets to 145-total yards of offense and created four turnovers. Positives for the Jets? You won't find any in this league when you get shutout and beat up for the majority of the afternoon. That's a bad loss for Rex's team and the type of game I expect to see from the 49ers.
4. Patriots' comeback win: New England played sloppy football to start that game in Buffalo. Turnovers, poor angles in the secondary, etc. However, look at how they established the line of scrimmage in the run game with Bolden (16-137-1TD) and Ridley (22-106-2TDs) vs. a Bills' D-Line that has some talent. What does that lead to? Play pass opportunities and favorable matchups for Gronkowski (5-104-1TD) and Welker (9-129). Brady and this offense completely took this game over in the second half.
5. Peyton Manning, Broncos' route tree: Think short to intermediate concepts in the Denver route tree. That's what you want with Manning, The Broncos' QB did throw the inside vertical seam for a score, but the Hi-Lo concepts and multiple underneath combination routes give Manning the ability to work over a back seven all afternoon long. He was accurate, didn't force the ball and put drives together in the 37-6 win over the Raiders at home. The arm strength? I didn't see any issues as Manning threw for 338-yards and 3 TDs.
CLICK TO PAGE 2 TO CONTINUE READING
NFP's Introduction to Scouting Class is now registering for our Winter sessions! Save $200 if you register before December 20th! REGISTER NOW!