Live on location from the NFLPA Game, the NFP breaks down this morning's weigh-in with full results and notes from both teams.
One of the common traits we have talked about consistently over the past three weeks when looking at pass rushers is length, and Oklahoma State DE Ugo Chinasa has plenty of it. He measured in with 35-inch arms, has a strong, athletic-looking frame and certainly looked as impressive as any defensive lineman down here.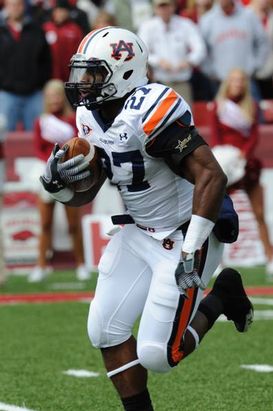 ICONFannin possesses an NFL frame.
Auburn RB Mario Fannin was the one guy who really fell by the wayside this past year for the national champion Tigers. However, at 5-10 and 225 pounds, he's a strong, thickly put together back with a muscular lower half and in my view is an intriguing later-round developmental guy who could make a roster as a third-down type back.
I was a little surprised to see Abilene Christian OT Trevis Turner come in at 342 pounds despite his 6-7 frame. He looked fleshy throughout his upper half and didn't have the type of bubble or thicker lower half you really look for in an offensive tackle prospect. Now, he hasn't played football in a couple months, which could be the reason for some additional weight. Nevertheless, he doesn't appear to be in that good of shape and in my view it wasn't the kind of initial impression he wanted to leave as a D-II kid trying to warrant a draft pick.
A lot has been made of the weight gain this past season for Texas Tech DL Colby Whitlock, who played as a five-technique in 2010 at 6-2 and 299 pounds. However, after seeing him up close it's not a natural 299 pounds as he has a lot of extra flesh, looks soft through the mid-section and in my view was a lot more of an intriguing prospect as a one-gapping 285-pound kid than the player he is now. However, you have to give him credit for being a team player, doing what was asked of him and I don't think it will take him long to lose this additional girth because it's simply not a natural weight for him to play at.
One prospect who really stood out in my mind was Utah center Zane Taylor. He measured in at 6-2 — which was taller than I thought he would be — and really looked well put together at 313 pounds. He had a thick lower half, was well strapped together in his upper body without much extra flesh and with 32-inch arms he has more than enough length to hold his own inside at the next level. Size was one of the major questions with Taylor as a prospect, but after getting the numbers, I think with a strong week the guy could play himself up some draft boards as he is one of the most underrated centers in the country.
Finally, I wrote about East Carolina OT Willie Smith on Monday being one guy who I am most excited about seeing down here and he certainly has me even more intrigued after the weigh-in. He measured in at just under 6-5 with 33 ¾ inch arms and the guy didn't have any unnecessary weight to his frame. He possesses a strong-looking bubble, was muscular in the upper body and despite being raw, I think the guy has a lot of natural talent and upside to warrant a higher pick than most would suspect.
Weigh-In Results
Nation
Pos First Last Team Ht Wt Hand Arm Wing
DB Isa Abdul-Quddus Fordham 6000 200 10 1/8 32 76 1/4
LS Corey Adams Kansas State 6043 246 9 32 7/8 77 5/8
OLB Mario Addison Troy 6025 245 9 3/8 33 5/8 80
DT Ladi Ajiboye South Carolina 6016 293 9 7/8 34 1/8 79 1/8
DE Christian Anthony Grambling State 6034 281 10 1/4 32 7/8 79 3/8
RB Damien Berry Miami 5104 212 9 3/8 31 5/8 75 5/8
P/K Matt Bosher Miami (FL) 6005 207 9 5/8 30 7/8 74 1/4
CB Niles Brinkley Wisconsin 5096 190 9 1/4 30 1/8 72 7/8
CB Vance Cuff Georgia 5102 171 9 5/8 31 1/4 74 7/8
OL Josh Davis Georgia 6073 305 10 3/4 35 5/8 85 3/4
S Dominic DeCicco Pittsburgh 6026 232 8 5/8 32 7/8 79
RB Shaun Draughn North Carolina 5112 210 9 5/8 31 75 1/8
WR Kris Durham Georgia 6052 214 9 1/8 31 5/8 77 1/8
DT Kenrick Ellis Hampton 6050 336 10 3/8 34 3/4 82 5/8
QB Nathan Enderle Idaho 6042 240 9 5/8 31 75 1/4
CB Anthony Gaitor FIU 5097 175 10 30 1/4 73 1/2
OLB Michael Gee Indiana (PA) 6004 239 8 7/8 32 7/8 77 1/2
DT John Graves Virginia Tech 6033 278 9 3/4 31 1/2 77 1/2
TE Daniel Hardy Idaho 6035 248 9 3/4 30 5/8 76 5/8
ILB Mario Harvey Marshall 5112 250 9 3/4 32 7/8 76 3/4
OL Peter Hendrickson Tulane 6076 310 10 1/4 33 3/4 82 3/8
WR Andre Holmes Hillsdale 6045 209 8 1/2 34 74
OLB Jeremiha Hunter Iowa 6006 239 9 3/8 31 5/8 75 3/4
OL Carl Johnson Florida 6052 353 9 7/8 35 3/8 85 1/8
WR Derrell Johnson-Koulianos Iowa 5116 204 9 1/2 32 75 1/4
DT Frank Kearse Alabama A&M 6041 311 10 3/4 34 3/4 84 3/4
OL Daniel Kilgore Appalachian State 6033 304 9 7/8 35 3/8 85 1/8
OL Jarriel King South Carolina 6052 310 10 35 1/2 86
S Mark Legree Appalachian State 6000 211 8 3/4 30 1/2 72 5/8
DE Lazarius Levingston LSU 6035 288 10 3/8 32 3/4 79 1/2
DE Craig Marshall South Florida 6045 276 9 1/4 32 1/4 81
CB Byron Maxwell Clemson 6006 207 9 1/8 32 5/8 76 7/8
WR Joe Morgan Walsh 6005 185 8 1/2 30 7/8 74 5/8
OLB Adrian Moten Maryland 6015 225 9 3/8 31 1/2 77 1/4
RB Richard Murphy LSU 6007 204 8 7/8 31 76 3/8
WR Jamar Newsome Central Flordia 6005 198 8 7/8 33 77 1/4
DE Clay Nurse Illinois 6026 259 9 5/8 34 1/8 81 1/4
TE Schuylar Oordt Northern Iowa 6056 258 9 5/8 33 1/4 80 3/8
RB Keith Payne Virginia 6022 257 10 3/4 32 1/2 78 1/4
OL Curt Porter Jacksonville State 6070 308 9 3/4 34 82 1/4
K Jacob Rogers Cincinnati 6022 215 9 1/2 31 1/8 76 1/2
WR Jock Sanders West Virginia 5063 174 8 7/8 28 3/8 68 1/2
TE Andre Smith Virginia Tech 6044 269 10 1/8 34 3/4 82 3/8
ILB D.J. Smith Appalachian State 5106 237 9 3/4 31 1/4 75 3/4
OT Willie Smith East Carolina 6047 305 11 33 3/4 81
WR Owen Spencer North Carolina State 6024 191 9 5/8 33 1/8 77 5/8
FB Ryan Taylor North Carolina 6033 250 10 1/8 33 1/8 77 5/8
OL Zane Taylor Utah 6024 313 10 32 77 3/4
OLB J.T. Thomas West Virginia 6012 236 9 1/4 30 3/4 74 1/4
OL Brad Thorson Kansas 6040 301 10 32 1/4 79 1/4
CB Devon Torrence Ohio State 5115 190 8 3/4 29 3/4 70 5/8
QB Jeff Van Camp Florida Atlantic 6052 209 10 32 1/2 78 3/4
S Anthony Walters Delaware 6000 201 9 1/2 32 77 1/4
QB T.J. Yates North Carolina 6035 221 10 1/8 32 1/4 75 3/4
OT D.J. Young Michigan State 6047 307 9 3/4 35 1/8 83 7/8
Texas
WR Kris Adams UTEP 6034 194 10 L 34 80
OL Matt Allen Texas A&M 6025 279 10 L 33 1/4 79 1/2
ILB Tressor Baptiste Texas A&M Kingsville 6001 235 8 3/4 31 1/8 75 3/8
OL Tim Barnes Missouri 6036 297 10 32 7/8 78 1/4
FB Bubba Bartlett Carroll - MT 6007 238 10 31 74
OL Byron Bell New Mexico 6052 348 10 1/2 32 3/4 81
DT Corbin Bryant Northwestern 6041 302 9 1/4 32 1/4 76 1/4
WR Stephen Burton West Texas A&M 6016 219 8 7/8 31 1/2 74 7/8
DE Ugo Chinasa Oklahoma State 6051 254 9 7/8 35 1/2 85 1/4
QB Ryan Colburn Fresno State 6030 218 9 1/4 29 1/2 73 1/2
DE Wayne Daniels TCU 6006 257 10 32 1/2 78 3/8
OLB Quentin Davie Northwestern 6043 238 9 3/4 33 3/4 80
DE Roberto Davis NW Missouri State 6022 247 10 32 3/4 78 3/8
OL Ray Dominguez Arkansas 6042 340 9 1/2 33 80 7/8
OLB Brian Duncan Texas Tech 6003 237 9 1/4 30 3/4 74 1/4
P Derek Epperson Baylor 6032 237 9 1/8 32 1/4 77 7/8
RB Mario Fannin Auburn 5105 225 9 3/8 30 7/8 74 1/4
RB Jay Finley Baylor 5107 198 9 1/4 32 5/8 76 1/2
LS Harry Flaherty Princeton 6026 242 10 1/4 32 7/8 78 1/2
DB Josh Gatlin North Dakota State 6003 195 8 3/4 30 7/8 74 1/8
TE Cameron Graham Louisville 6031 240 9 3/8 L 30 7/8 75 1/2
CB Darian Hagan Cal 5113 178 8 7/8 31 7/8 75 5/8
WR Marcus Harris Murray State 6007 187 9 1/4 31 1/4 75
TE Robert Housler Florida Atlantic 6054 249 9 1/2 34 3/8 80 7/8
OL Kevin Hughes SE Louisiana 6037 297 9 3/8 33 1/2 80 1/2
FB Robert Hughes Notre Dame 5110 233 10 1/4 L 32 75 3/8
DE Eddie Jones Texas 6022 258 10 1/4 32 7/8 79
CB Ryan Jones NW Missouri State 5111 197 8 5/8 30 3/4 72 3/8
OLB Jamari Lattimore Middle Tennessee State 6020 218 10 3/4 33 1/8 79 7/8
WR Ricardo Lockette Fort Valley State 6021 207 9 7/8 33 1/2 79
DT Ricky Lumpkin Kentucky 6034 308 8 7/8 31 7/8 77 5/8
WR Chris Matthews Kentucky 6050 224 9 3/4 33 5/8 80 5/8
WR Denarius Moore Tennessee 6000 191 9 1/4 32 1/2 77 1/4
OL Derek Newton Arkansas State 6050 311 9 1/8 31 7/8 77 5/8
DT Lucas Patterson Texas A&M 6041 290 9 5/8 30 3/4 77 1/8
OLB Spencer Paysinger Oregon 6026 230 9 32 1/4 76
OL Mike Person Montana State 6047 296 9 3/8 31 7/8 77 7/8
QB Josh Portis California (PA) 6031 209 9 3/4 33 1/2 79 7/8
QB Taylor Potts Texas Tech 6040 220 9 3/4 32 7/8 80 1/4
DT Jerrell Powe Mississippi 6020 331 9 5/8 33 1/8 78
S Chris Prosinski Wyoming 6012 205 9 5/8 29 7/8 72 1/4
CB Reggie Rembert Air Force 5073 180 9 3/8 29 3/4 70 3/8
S Maurice Rolle Lousiana-Lafayette 6002 189 8 5/8 32 5/8 76 5/8
WR Jeremy Ross California 5117 212 9 1/8 30 3/4 74 1/4
CB Kevin Rutland MIssouri 5117 191 8 1/2 30 7/8 72 5/8
TE Stephen Skelton Fordham 6046 247 10 32 1/4 77 3/4
CB Buster Skrine Tennessee-Chattanooga 5095 186 8 5/8 30 1/8 72 1/4
RB Chad Spann Northern Illinois 5080 199 9 30 71 7/8
OL Chris Stewart Notre Dame 6043 346 9 1/8 34 83 1/8
OL Isaiah Thompson Houston 6035 300 9 1/8 32 3/4 77 1/4
OL Trevis Turner Abilene Christian 6067 342 10 3/8 33 5/8 81 3/8
S Jay Valai Wisconsin 5083 203 10 1/4 31 7/8 73 3/4
K Thomas Weber Arizona State University 6004 200 9 7/8 31 3/8 75 3/8
DT Colby Whitlock Texas Tech 6023 299 9 31 1/4 75 3/8
OLB Jabara Williams Stephen F. Austin 6022 223 9 3/8 31 1/8 75 1/8
Follow me on Twitter: @WesBunting