We are getting ever so close to the start of the new college football season, as the opening kickoff to the 2013 campaign is just about a month away.
So it's time to start releasing a variety of previews here at the National Football Post, and we'll begin with the preseason All-America teams.
Today, let's take a look at the NFP 2013 preseason All-America second team.
Offense
So. QB Johnny Manziel, Texas A&M, 6-1, 200
Jr. RB Lache Seastrunk, Baylor, 5-10, 205
So. RB Duke Johnson, Miami (FL), 5-9, 194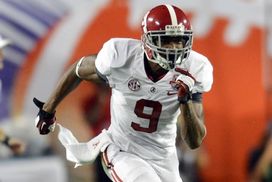 US PRESSWIREAmari Cooper helped Alabama win yet another BCS title last season.
So. WR Amari Cooper, Alabama, 6-1, 202
So. WR Mike Evans, Texas A&M, 6-5, 225
Sr. WR Cody Hoffman, BYU, 6-4, 215
Sr. TE Jacob Pedersen, Wisconsin, 6-4, 241
Jr. T Cyrus Kouandjio, Alabama, 6-6, 310
Sr. T Zack Martin, Notre Dame, 6-4, 304
Sr. G Cyril Richardson, Baylor, 6-5, 335
Jr. G Tre' Jackson, Florida State, 6-4, 327
Jr. C BJ Finney, Kansas State, 6-4, 303
Defense
Jr. DE Scott Crichton, Oregon State, 6-3, 260
So. DE Devonte Fields, TCU, 6-4, 240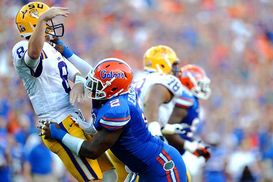 US PRESSWIRE Dominique Easley will be a big factor in Florida's quest to win the SEC East.
Sr. DT Dominique Easley, Florida, 6-2, 283
Jr. DT Anthony Johnson, LSU, 6-3, 294
Sr. LB C.J. Mosley, Alabama, 6-2, 232
Sr. LB Shayne Skov, Stanford, 6-3, 244
Sr. LB Max Bullough, Michigan State, 6-3, 252
Sr. CB Darqueze Dennard, Michigan State, 5-11, 188
Sr. CB Antone Exum, Virginia Tech, 6-1, 224
Sr. S Hakeem Smith, Louisville, 6-1, 179
Sr. S Ty Zimmerman, Kansas State, 6-1, 203
Special Teams
Sr. K Cairo Santos, Tulane, 5-8, 160
Sr. P Kirby Van Der Kamp, Iowa State, 6-4, 211
Sr. KR Justin Gilbert, Oklahoma State, 6-0, 200
Jr. PR Marcus Murphy, Missouri, 5-9, 185
NFP's Introduction to Scouting Class is now registering for our Winter sessions! Save $200 if you register before December 20th! REGISTER NOW!