*A hidden factor in the aggressive, efficient play of the Seahawks defensive backs is the involvement of Pete Carroll with the group. Carroll's roots are as a secondary coach. He worked with the DBs of the Bills and Vikings in the 1980s, and he has been spending a lot of time with the Seahawks' corners and safeties. As one player put it, "He always finds a new, fresh and exciting way to energize and challenge us each day and each week."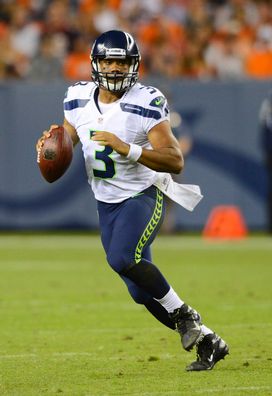 US PRESSWIRERussell Wilson has impressed thus far with the Seahawks.
*People around the league have been very impressed with Seahawks quarterback Russell Wilson. In fact, one NFC pro personnel director believes Wilson may be considerably better than he has shown. Why? He thinks Wilson's receivers are average. The personnel director pointed out the Seahawks don't have a true No. 1 receiver—instead they are playing with a 2, 3, 4 and 5. So in time, Wilson could really take off if he's surrounded with the right players.
*Bill Parcells is out of sight in Miami but apparently not out of mind. Word is he and Dolphins owner Stephen Ross still talk on occasion. And of course Miami general manager Jeff Ireland remains friendly with Parcells. It is not out of the question that Parcells could have a voice in determining the direction of the Dolphins moving forward.
*The Falcons were rumored to be interested in Steve Spagnuolo but he never interviewed with the Falcons. Spagnuolo couldn't be blamed if he is asking himself what might have been. The Falcons are 3-0 and have the fourth best defense in the league in terms of points allowed. The Saints are 0-3 and have allowed more points than all but one team.
*The Cowboys were not surprised to see Dez Bryant going off on the sidelines last week. He was mad because the Cowboys' offense was sputtering and he thought he was getting open but not getting the ball. Bryant frequently gets frustrated over the same thing, and still has trouble controlling his emotions.
*Also from Dallas, the Cowboys are not concerned about tight end Jason Witten, who has five drops and has not looked like himself. The team is attributing Witten's struggles to a lack of timing and football conditioning after he missed four weeks with a lacerated spleen. Around Valley Ranch, the feeling is Witten will come around and regain his form within a couple weeks.
*The Eagles are becoming younger before our eyes. In fact, they are the second youngest team in the NFL. And this was no accident. In recent years, the team has made a concerted effort to turn the page on aging veterans and give the team an infusion of young talent.