NFP's Introduction to Scouting Class is now registering for our next session! Early bird pricing in effect until February 15th! Save $100 and REGISTER NOW!
The final weeks of the 2011 college football season are set up perfectly for one of the best Heisman Trophy races in recent memory.
A week after the door was opened a little bit by Andrew Luck after Stanford's loss to Oregon, Oklahoma State's Brandon Weeden could not capitalize on his big opportunity in a primetime showdown at Iowa State. The Cyclones forced three interceptions in the shocking win to essentially knock the Cowboys out of the BCS national championship race.
Meanwhile, Baylor's Robert Griffin III and USC's Matt Barkley made their biggest moves yet, leading their teams to big upsets against Oklahoma and Oregon, respectively.
With Week 12 in the books, the Heisman race has never been closer as we head into Thanksgiving weekend.
So which star players have the edge for the hardware after twelve weeks of the season?
Here are the names to monitor as we enter Week 13:
Andrew Luck, QB, Stanford: The prohibitive Heisman favorite's candidacy seemingly took another hit because of his team's close win over Cal in the Big Game, but the Cardinal would not have defeated the Golden Bears and win The Axe without Luck — and that's exactly why he's so valuable. The junior signal-caller overcame steady rain in a rivalry game, throwing for 257 yards and two touchdowns to help the Cardinal overcome a shaky start in a 31-28 win. He went 20 of 30 through the air, putting past an early interception to lead back-to-back touchdown drives to open the second half to rally the Cardinal. He is one shy of the school record for touchdown passes he set last year, and he'll have another spotlight game against Notre Dame to close the regular season.
2011: 2,937 yards, 70.3 %, 31 TDs and 8 INTs
Trent Richardson, RB, Alabama: The junior workhorse was about the only aspect of the Alabama team that didn't underwhelm against Georgia Southern last Saturday. While the defense didn't dominate as expected against the Eagles' triple option, Richardson rushed for 175 yards and two touchdowns on 32 carries while adding a receiving touchdown, proving once again how valuable he is to this Crimson Tide offense. He broke Shaun Alexander's school single-season mark of 19 rushing touchdowns and proved once again that he is the center of Alabama's offense. His rare combination of power and speed has helped the Tide all season long whenever it had problems moving the football, and the tough-nosed runner has closed the gap on Luck each week.
2011: 236 rushes for 1,380 yards and 20 TDs; 26 receptions for 322 yards and 2 TDs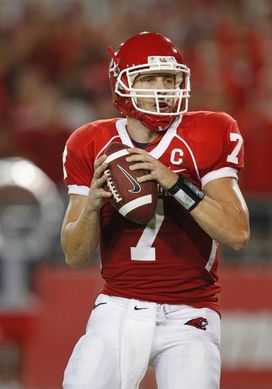 ICONCase Keenum has helped lead Houston to an 11-0 mark.
Case Keenum, QB, Houston: This fall, Keenum has become the FBS career leader in total offense, the all-time FBS leader in touchdown passes, the major college football career leader in passing yards and the FBS career record-holder for completions. This past weekend he led Houston to a 37-17 victory over SMU, completing 30 of 45 passes for 318 yards and a touchdown. He also ran for another score as the Cougars moved to 11-0, and he joined former Hawaii quarterback Timmy Chang as the only quarterbacks to reach 4,000 yards passing in three seasons. The Cougars are positioned to earn their first-ever BCS bid, and the sixth-year senior Keenum is unquestionably a legitimate Heisman contender in this offense, which has produced five 400-plus-yard efforts from the signal-caller this fall.
2011: 4,269 yards, 73.4 %, 38 TDs and 3 INTs
Robert Griffin III, QB, Baylor: RG III jumped back into the Heisman race by leading Baylor past Oklahoma last weekend — the first time in the program's history that the Bears knocked off the Sooners. Baylor also hadn't defeated an opponent in the Top 10 since 1986. Griffin III threw for 479 yards and four touchdowns, including the clutch 34-yard touchdown to Terrance Williams with :08 remaining. The junior QB has played outstanding all season long, and his play has never been the reason the Bears lost a game.
2011: 3,572 yards, 72.9 %, 33 TDs and 5 INTs; 135 rushes for 550 yards and 5 TDs
Matt Barkley, QB, USC: Barkley had his way with the Oregon defense last weekend, picking apart the Ducks' secondary to the tune of 323 yards and four touchdowns on 26-of-34 passing. He tossed one interception, but he only has 7 picks on the year. He wasn't the reason that 'SC lost to Stanford, and his only "off" game was the road loss at Arizona State. While the Trojans aren't going to the postseason because of NCAA sanctions, Barkley is leading a BCS-level squad right now.
2011: 3,105 yards, 67.6 %, 33 TDs and 7 INTs
Just missing the cut
Kellen Moore, QB, Boise State
2011: 2,915 yards, 73.8 %, 35 TDs and 6 INTs
Montee Ball, RB, Wisconsin
2011: 223 rushes for 1,466 yards and 25 TDs; 16 receptions for 233 yards and 5 TDs
David Wilson, RB, Virginia Tech
2011: 231 rushes for 1,442 yards and 7 TDs; 17 receptions for 107 yards and 1 TD
Email dave.miller@nationalfootballpost.com or follow me on Twitter at Miller_Dave