17. (11) New York Jets (8-6): What happened in Philly, Rex?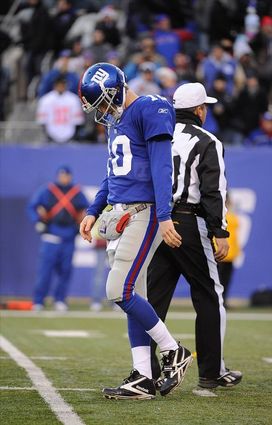 ICONAn ugly day for Eli and the Giants in the loss to the 'Skins at home.
18. (9) New York Giants (7-7): That was a blown opportunity for Eli and the Giants vs. the Redskins.
19. (20) Oakland Raiders (7-7): How do you allow Calvin Johnson to get behind the secondary in a two-minute situation?
20. (22) Washington Redskins (5-9): The 'Skins handled the Giants—for the second time this season.
21. (23) Miami Dolphins (5-9): Reggie Bush came to play and posted a career high 203-yards in the win over the Bills.
22. (26) Kansas City Chiefs (6-8): Was the upset win over the Packers enough to get Romeo Crennel the head job in 2012?
23. (24) Carolina Panthers (5-9): When was the last time you saw the "fumblerooski" work outside of a little league game?
24. (16) Tennessee Titans (7-7): In the middle of the Wild Card race you can't lose to the Colts.
25. (21) Chicago Bears (7-7): The Caleb Hanie experiment—and the season—is coming to a crashing end in Chicago.
26. (25) Buffalo Bills (5-9): Remember when the Bills beat the Patriots?
27. (28) Cleveland Browns (4-10): Seneca Wallace made some plays at QB, but that's a game Cleveland has to close out in Arizona.
28. (27) Jacksonville Jaguars (4-10): The Jags should have stayed on the bus in Atlanta.
29. (29) Minnesota Vikings (2-12): The Vikes might want to upgrade their secondary this offseason.
30. (30) Tampa Bay Buccaneers (4-10): That is now eight straight losses for Raheem Morris and the Bucs.
31. (31) St. Louis Rams (2-12): Remember when the Rams almost won the NFC West in 2010?
32. (32) Indianapolis Colts (1-13): The Colts finally get a win, but they still belong down here at the bottom.
Follow the NFP on Twitter: @FootballPost
NFP's Introduction to Scouting Class is now registering for our Winter sessions! Save $200 if you register before December 20th! REGISTER NOW!