17. (19) Philadelphia Eagles (4-6): Can they Eagles stay alive? We will find out when they matchup with Brady and the Patriots this Sunday.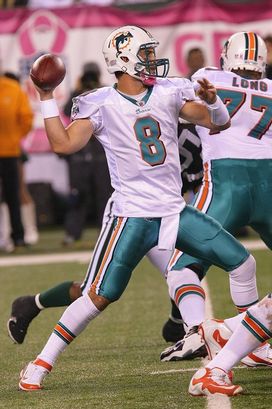 ICONMatt Moore and the Dolphins have won three straight after the 0-7 start.
18. (22) Miami Dolphins (3-7): The Dolphins are on a three game winning streak and it starts with the play of QB Matt Moore.
19. (16) Tennessee Titans (5-5): Chris Johnson continued his sub-par season in the loss to the Falcons.
20. (17) Buffalo Bills (5-5): The Bills continue to fade away after taking a beating down in Miami.
21. (21) Tampa Bay Buccaneers (4-6): The Bucs are going backwards despite the highlight runs we see from LaGarrette Blount.
22. (18) San Diego Chargers (4-6): When you lose five straight it is a good time to question the head coach.
23. (25) Seattle Seahawks (4-6): The Seahawks followed up the win over the Ravens by pounding the Rams at home.
24. (23) Kansas City Chiefs (4-6): Hawkeyes' fans are already calling for rookie QB Ricky Stanzi to see some playing time after last night. #USA
25. (26) Arizona Cardinals (3-7): Never mind the talk of a QB controversy in Arizona.
26. (31) Cleveland Browns (4-6): The Browns get their fourth win of the season, but watching this offense is painful.
27. (27) Minnesota Vikings (2-8): With the way this season is going, the Vikings might want to shut A.P. down for a couple of weeks with that ankle injury.
28. (28) Carolina Panthers (2-8): The sign of a rebuilding team: blowing a 24-7 lead in another loss.
29. (24) Jacksonville Jaguars (3-7): Blaine Gabbert had the opportunities to beat the Browns in the final seconds.
30. (30) Washington Redskins (3-7): That's six straight losses for Mike Shanahan and the 'Skins.
31. (29) St. Louis Rams (2-8): Is Steve Spagnuolo going to survive in St. Louis after this season?
32. (32) Indianapolis Colts (0-10): Did anyone even notice the Colts were on a bye this past week?
Follow the NFP on Twitter: @FootballPost
NFP's Introduction to Scouting Class is now registering for our Winter sessions! Save $200 if you register before December 20th! REGISTER NOW!