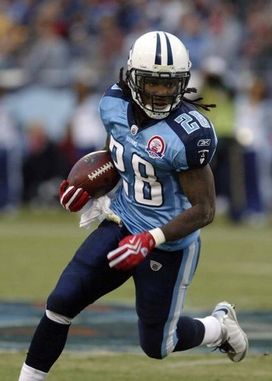 ICONJohnson showed up to play vs. the Bucs and posted 190-yards rushing in the Titans' win.
17. (19) Tennessee Titans (6-5): Nice to see Chris Johnson come to play on a Sunday.
18. (18) Miami Dolphins (3-8): The Dolphins will be a tough matchup down the stretch for some playoff hopeful teams.
19. (20) Buffalo Bills (5-6): The Bills had an opportunity to get back in the AFC playoff picture, but consecutive losses to the Dolphins and Jets have them sitting below .500.
20. (17) Philadelphia Eagles (4-7): The ship is sinking in Philly.
21. (21) Tampa Bay Buccaneers (4-7): A disappointing season continues in Tampa with another loss.
22. (25) Arizona Cardinals (4-7): Beanie Wells might not run for 200-plus every week, but Patrick Peterson is always a threat in the return game.
23. (30) Washington Redskins (4-7): Did anyone expect Grossman and the 'Skins to head out to Seattle and get a win? We didn't.
24. (23) Seattle Seahawks (4-7): Hard to figure out Pete Carroll's squad after a win over the Ravens this season and the home loss to the 'Skins.
25. (24) Kansas City Chiefs (4-7): Tyler Palko has thrown six INTs in this two starts. Time to hand the ball to Kyle Orton.
26. (22) San Diego Chargers (4-7): That's six straight losses for the Chargers. That's bad football.
27. (26) Cleveland Browns (4-7): The Browns hung tough with the Bengals, but we don't think they matchup with the rest of the AFC North.
28. (28) Carolina Panthers (3-8): The Panthers beat the winless Colts, but that isn't saying much.
29. (27) Minnesota Vikings (2-9): Not much to say about the Vikings when A.P. isn't in the lineup.
30. (29) Jacksonville Jaguars (3-8): Firing your coach during the season is a sign of a football team that has issues.
31. (31) St. Louis Rams (2-9): If the Rams didn't upset the Saints this season there would be nothing to talk about in St. Louis.
32. (32) Indianapolis Colts (0-11): The Colts fired their defensive coordinator and made a QB switch. Will that lead to a win?
Follow the NFP on Twitter: @FootballPost