NFP's Introduction to Scouting Class is now registering for our next session! Early bird pricing in effect until February 15th! Save $100 and REGISTER NOW!
Every week, the National Football Post brings you our NFL Power Rankings—a breakdown of how we stack up the league.
Week 2 (previous rankings in parentheses)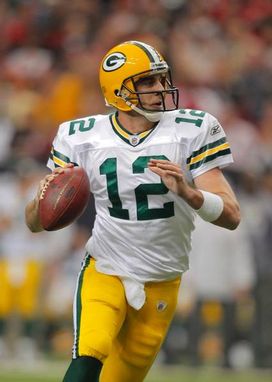 ICONRodgers and the Pack make the trip to Chicago this Sunday.
1. (1) Green Bay Packers: 2-0 Rodgers made the plays on the road for Green Bay, but there is some concern about the secondary for the Packers two weeks into the season.
2. (2) New England Patriots: 2-0 Can anyone stop Brady and the Pats offense? Ridiculous numbers (again) for the New England QB.
3. (5) New York Jets: 2-0 The Jets get their second win of the season after completely shutting down the Jags at home.
4. (6) New Orleans Saints: 1-1 The Saints poured on the pressure vs. Cutler and the Bears to get their first win of the season.
5. (4) Philadelphia Eagles: 1-1 Concerns about Vick's health already for the Eagles.
6. (3) Baltimore Ravens: 1-1 What happened in Nashville? It isn't often you see a Ravens defense shredded in the passing game.
7. (9) Pittsburgh Steelers: 1-1 The Seattle offense had no answer on Sunday for Dick LeBeau's defensive scheme in the shutout win for Pittsburgh.
8. (7) San Diego Chargers: 1-1 The secondary needs to make some corrections, but we don't know if anyone can shut down Rivers to Jackson right now.
9. (10) Houston Texans: 2-0 We want to see the Texans get a win vs. the Saints this Sunday before we bump them up.
10. (8) Chicago Bears: 1-1 O-Line issues again for Mike Martz's offense. Sound familiar?
11. (11) Atlanta Falcons: 1-1 The Falcons get the win on Sunday night, but they have to keep QB Matt Ryan off the ground.
12. (12) Dallas Cowboys: 1-1 Romo brought them back in San Fran, but injuries are already a concern at the skill positions in Dallas.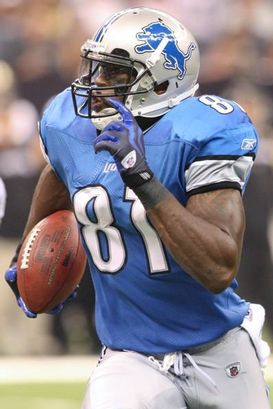 ICONC.J. and the Lions almost dropped 50 on the Chiefs to move to 2-0.
13. (13) Detroit Lions: 2-0 Are we ranking the Lions too low? Let's see how they play on the road in Minnesota this Sunday.
14. (16) Tampa Bay Buccaneers: 1-1 The Bucs found a way to rip up the Vikings defense in the second half for the win on the road.
15. (14) Washington Redskins: 2-0 Rex Grossman made plays for the second week in a row—and the 'Skins are atop the NFC East.
16. (18) Buffalo Bills: 2-0 Time to jump on the Bills' bandwagon? Not yet—because we want to see how they match up with the Patriots on Sunday.
17. (22) New York Giants: 1-1 The Giants get the Monday night win, but this team has some issues.
18. (15) Oakland Raiders: 1-1 The Raiders showed us they could score points, but what happened to that defense out in Orchard Park?
19. (25) Tennessee Titans: 1-1 Maybe we were overlooking the Titans in our rankings last week.
20. (19) Miami Dolphins: 0-2 When will the Dolphins start making plays inside of the red zone?
21. (17) Arizona Cardinals: 1-1 More defensive problems after blowing a fourth quarter lead to Washington.
22. (21) Minnesota Vikings: 0-2 The only thing keeping us from burying the Vikings in the rankings is Adrian Peterson.
23. (24) San Francisco 49ers: 1-1 Harbaugh's team has to find a way to close out that game at home vs. the Cowboys.
24. (27) Carolina Panthers: 0-2 After two weeks, it is clear that Cam Newton will keep the Panthers competitive all season long.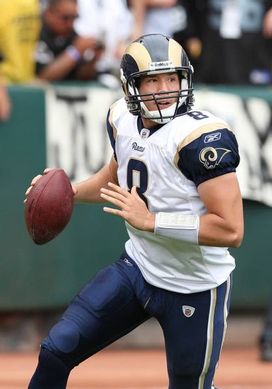 ICONThe Bradford-McDaniels combo hasn't produced in two Rams losses.
25. (20) St. Louis Rams: 0-2 The Rams look stale on offense in Josh McDaniels' first year as OC in St. Louis.
26. (23) Jacksonville Jaguars: 1-1 Maybe getting rid of David Garrard wasn't the best idea from Del Rio.
27. (31) Cleveland Browns: 1-1 We need more time to get a good feel on the Browns after a loss to Cincy and a win over a Colts team that looks desperate.
28. (30) Denver Broncos: 1-1 The Broncos get the win, but there are a lot of holes on this roster.
29. (28) Cincinnati Bengals: 1-1 The young Bengals are competing, but we think they will be down here at the bottom of the list all season.
30. (29) Indianapolis Colts: 0-2 Jeff George wants to come back? Columnists calling for Favre? A mess in Indy.
31. (26) Kansas City Chiefs: 0-2 Another big injury and another blowout loss. Panic time in K.C.
32. (32) Seattle Seahawks: 0-2 Pete Carroll has a problem on his hands with this team—and the offense is embarrassing.
Follow the NFP on Twitter: @FootballPost