17. (19) Dallas Cowboys (7-6): The injury to Dez Bryant is something to keep an eye on this week.
18. (16) Tampa Bay Buccaneers (6-7): Losing to Eagles might have knocked the Bucs out of the playoff race.
19. (17) New Orleans Saints (5-8): A couple of weeks ago the Saints were hot, but its time to prep for the offseason in New Orleans.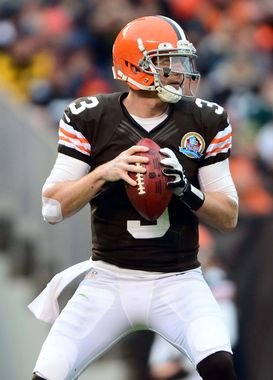 US PRESSWIREBrandon Weeden and the Browns have won three straight.
20. (23) Cleveland Browns (5-8): That's three straight wins for the Browns. Can they knock off the 'Skins this Sunday?
21. (25) New York Jets (6-7): This isn't a good football team, but at 6-7 they are still hanging around.
22. (24) San Diego Chargers (5-8): Rivers lit up the Steelers, but the Chargers are still heading towards major change this offseason.
23. (27) Carolina Panthers (4-9): Cam Newton ripped apart the Falcons' defense.
24. (20) Buffalo Bills (5-8): The Bills need to make the QB position a top priority heading into free agency and the draft.
25. (21) Detroit Lions (4-9): The Lions had control of the game at Lambeau, but once again they failed to play consistent football for four quarters.
26. (22) Miami Dolphins (5-8): Ryan Tannehill is quietly having a solid rookie season in Miami.
27. (26) Tennessee Titans (4-9): A blown lead on the road ended the Titans chances of knocking off the Colts.
28. (32) Philadelphia Eagles (4-9): The comeback win for Nick Foles is big for his development as a pro QB.
29. (28) Jacksonville Jaguars (2-11): Maybe the Jags should have made a stronger run at Tim Tebow.
30. (31) Oakland Raiders (3-10): How about giving Terrelle Pryor some snaps?
31. (31) Kansas City Chiefs (2-11): Blown out by the Browns? Yikes.
32. (29) Arizona Cardinals (4-9): You can't get beat 58-0 in pro football and expect to be taken seriously.
Follow the NFP on Twitter: @FootballPost