17. (13) Minnesota Vikings (6-5): The Vikings passing attack is really suspect without Percy Harvin in the lineup.
18. (16) Dallas Cowboys (5-6): The Cowboys secondary didn't have an answer for RG3 and the Redskins.
19. (18) Detroit Lions (4-7): Weren't the Lions a playoff favorite back in August?
20. (25) Miami Dolphins (5-6): The win at home vs. the Seahawks keeps the Dolphins in the AFC discussion for now.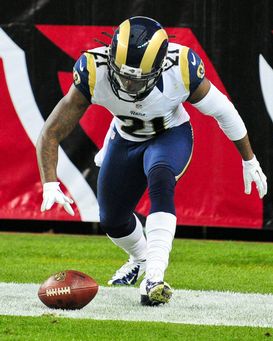 US PRESSWIRERookie Janoris Jenkins had two TDs in the Rams win over the Cardinals.
21. (22) St. Louis Rams (4-6-1): How about rookie CB Janoris Jenkins? Two picks, two TDs? Not bad.
22. (23) Buffalo Bills (4-7): The Bills are fading away—again.
23. (21) San Diego Chargers (4-7): Hey Norv, its been fun. Thanks.
24. (20) New York Jets (4-7): An embarrassing loss on the national stage. What else can we say?
25. (23) Tennessee Titans (4-7): The Titans fired their OC this week. Will it make a difference?
26. (30) Cleveland Browns (3-8): The Browns forced eight turnovers in their win over the Steelers.
27. (28) Carolina Panthers (3-8): That was the type of game we expected to see from Cam Newton all season in the win over the Eagles.
28. (26) Arizona Cardinals (4-7): The Cardinals QB situation is a disaster.
29. (31) Jacksonville Jaguars (2-9): Is Chad Henne the opening day starter for the Jags in 2013?
30. (27) Philadelphia Eagles (3-8): The Eagles are already starting to clean house after releasing Jason Babin today.
31. (29) Oakland Raiders (3-8): Carson Palmer's "homecoming" in Cincy resulted in another loss for the Raiders.
32. (32) Kansas City Chiefs (1-10): We would ask for Peyton Manning's autograph also.
Follow the NFP on Twitter: @FootballPost