17. (14) Cincinnati Bengals (7-6): The Bengals season is starting to slip away in December.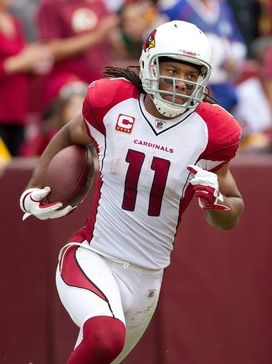 ICONFitzgerald posted 146-yards receiving in the Cards' win over the 49ers.
18. (21) Arizona Cardinals (6-7): Larry Fitzgerald lit up the Niners' secondary, but how about this defense in Arizona?
19. (25) Philadelphia Eagles (5-8): Can the Eagles put together two wins in a row when they host the Jets this weekend?
20. (17) Oakland Raiders (7-6): That performance at Lambeau was hideous.
21. (18) Chicago Bears (7-6): The Bears season has been flipped upside down over the last three weeks—and another Tebow comeback didn't help.
22. (24) Washington Redskins (4-9): Hung with the Patriots but the result is all that matters.
23. (13) Miami Dolphins (4-9): The loss to Philly didn't get Tony Sparano fired, but it didn't make a case for the head coach.
24. (23) Carolina Panthers (4-9): The Panthers blew another lead in the loss to the Falcons at home.
25. (26) Buffalo Bills (5-8): A major slide continues for Fitzpatrick and the Bills.
26. (22) Kansas City Chiefs (5-8): Do Chiefs' fans really want to see Josh McDaniels as their next head coach?
27. (30) Jacksonville Jaguars (4-9): Jags' fans should be thankful for Maurice Jones-Drew.
28. (29) Cleveland Browns (4-9): USC's Matt Barkley would look good in a Browns' uniform in 2012.
29. (27) Minnesota Vikings (2-11): The Vikings need to find a way to get Joe Webb on the field.
30. (28) Tampa Bay Buccaneers (4-9): Make that seven straight losses for the Bucs after the 41-17 beat down from the Jags.
31. (31) St. Louis Rams (2-11): The draft board in St. Louis should be loaded with WR prospects.
32. (32) Indianapolis Colts (0-13): Why can't the Colts go to camp next season with both Peyton Manning and Andrew Luck?
Follow the NFP on Twitter: @FootballPost