NFP's Introduction to Scouting Class is now registering for our next session! Early bird pricing in effect until February 15th! Save $100 and REGISTER NOW!
Every week, the National Football Post brings you our NFL Power Rankings: a breakdown of how we stack up the league.
Week 4 (previous rankings in parenthesis)
1. (3) Indianapolis Colts: 2-1
The Colts and Peyton Manning look primed for an early season run.
2. (8) Pittsburgh Steelers: 3-0
We know the defense is legit, but how about Charlie Batch and RB Rashard Mendenhall in the win at Tampa?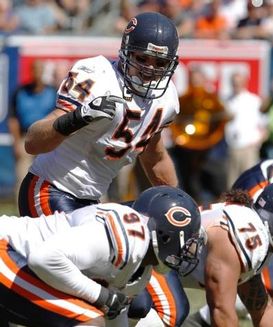 ICONUrlacher and the Bears sit atop the NFC North at 3-0.
3. (11) Chicago Bears: 3-0
After the Monday night win, Love Smith's Bears are the only undefeated team in the NFC.
4. (4) Baltimore Ravens: 2-1
WR Anquan Boldin is proving to be one of the biggest offseason additions in the NFL.
5. (1) New Orleans Saints: 2-1
We are still big on the Saints, but the run defense is lacking in New Orleans.
6. (9) N.Y. Jets: 2-1
Solid divisional win on the road at Miami, and another productive game for QB Mark Sanchez.
7. (2) Green Bay Packers: 2-1
18 penalties, poor special teams plays and a late turnover isn't good enough to win on the road.
8. (12) Atlanta Falcons: 2-1
RBs Michael Turner and Jason Snelling are proving to be one of the best backfields in the NFL.
9. (7) New England Patriots: 2-1
Pats get the home win over the Bills, but is there reason to be concerned about the young New England secondary?
10. (16) Philadelphia Eagles: 2-1
Can't deny the impact Michael Vick is having on the Eagles right now.
11. (5) Houston Texans: 2-1
The Texans' bandwagon slows a bit after the loss to the Cowboys.
12. (10) Miami Dolphins: 2-1
When WR Brandon Marshall is the focus of the game plan, the Dolphins can play with anyone.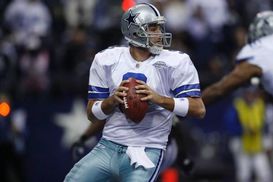 ICONRomo and the Cowboys got a big win in Houston.
13. (17) Dallas Cowboys: 1-2
A much more balanced game plan for Jason Garrett and it shows in the win column for the Cowboys.
14. (22) Kansas City Chiefs: 3-0
Are we ranking the Chiefs too low, or is the team for real at 3-0?
15. (9) Cincinnati Bengals: 2-1
Sloppy win over the Panthers and questions about QB Carson Palmer are the talk in Cincy.
16. (19) Tennessee Titans: 2-1
Nothing flashy in the win over the Giants—just physical football that we are used to seeing from the Titans.
17. (18) Minnesota Vikings: 1-2
Will Adrian Peterson continue to carry the Vikings while Brett Favre tries to catch up after missing training camp?
18. (13) San Diego Chargers: 1-2
Another slow start for the 'Bolts after special teams did them in at Seattle.
19. (15) N.Y. Giants: 1-2
Tom Coughlin's team is going backwards with the 3-0 Bears coming to town on Sunday night.
20. (25) Seattle Seahawks: 2-1
Hard to lose a game in the NFL when you get two scores from Leon Washington in the kicking game.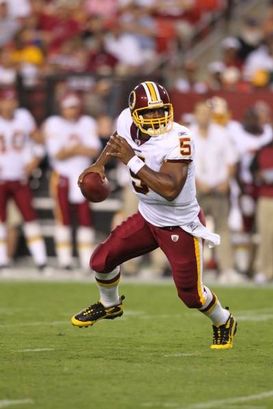 ICONMcNabb heads back to Philly on Sunday.
21. (14) Washington Redskins: 1-2
No other way to say it—a bad loss on the road at St. Louis.
22. (24) Arizona Cardinals: 2-1
The poor kicking of the Raiders' Sebastian Janikowski saves the Cards.
23. (23) Tampa Bay Buccaneers: 2-1
The Steelers exposed that 2-0 start on Sunday.
24. (20) Denver Broncos: 1-2
Kyle Orton is making plays, but he needs some help from that Broncos' defense.
25. (21) San Francisco 49ers: 0-3
Will a new offensive coordinator make a difference for a team that should have stayed on the bus in Kansas City?
26. (26) Jacksonville Jaguars: 1-2
David Garrard continues to hold this offense down in Jacksonville.
27. (28) Oakland Raiders: 1-2
The Raiders have their QB in Bruce Gradkowski, but they still have to close out games.
28. (27) Detroit Lions: 0-3
Lots of talk this offseason about the Lions, but they are still looking for a win.
29. (32) St. Louis Rams: 1-2
Sam Bradford and the Rams dominated the fourth quarter—a good sign for a young team.
30. (29) Carolina Panthers: 1-2
Jimmy Clausen is getting valuable experience, but that doesn't translate to wins.
31. (31) Cleveland Browns: 0-3
Can't get in the win column when you shut it down in the fourth quarter.
32. (30) Buffalo Bills: 0-3
Ryan Fitzpatrick moved the ball on offense, but the Bills still can't find a way to beat New England.
Follow the NFP on Twitter: @FootballPost
Want to work in the NFL? Click here to register for the NFP's "Chalk Talk" seminar in Chicago on October 22nd.