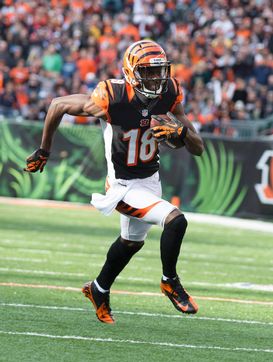 US PRESSWIREA.J. Green and the Bengals blew out the Giants this past Sunday in Cincy.
17. (22) Cincinnati Bengals (4-5): The Bengals blew out the Giants, but can they play some consistent football?
18. (14) Detroit Lions (4-5): We didn't see the Lions being swept by the Vikings this season.
19. (15) Miami Dolphins (4-5): Let's see how Tannehill responds in his next start after the poor performance he had in the loss to Tennessee.
20. (16) San Diego Chargers (4-5): Just when we thought the Chargers were ready to put together a run they find a way to disappoint again.
21. (22) Washington Redskins (3-6): Even with the 3-6 record, we will be watching RG3 and the 'Skins when they get back on the field this week.
22. (26) St. Louis Rams (3-5-1): Illegal formation? Delay of game? Those two penalties blew the Rams' opportunity to get the win in San Fran.
23. (23) Arizona Cardinals (4-5): Can the Cards stop their five game losing streak in Atlanta this Sunday?
24. (20) Philadelphia Eagles (3-6): Time is running out on Andy Reid and Michael Vick in Philly.
25. (29) Tennessee Titans (4-6): A week after giving up 51 to the Bears, the Titans get Jake Locker back and pound the Dolphins.
26. (24) New York Jets (3-6): The Jets stink right now. What else can we say?
27. (27) Buffalo Bills (3-6): How would Matt Barkley look in Orchard Park next season?
28. (25) Carolina Panthers (2-7): The Panthers continued to clean house in the middle of a horrendous season by firing the special teams coach.
29. (29) Oakland Raiders (3-6): The Raiders didn't belong on the same field as the Ravens this past Sunday.
30. (30) Cleveland Browns (2-7): Brandon Weeden has seven weeks left to prove that he is the future at the QB position in Cleveland.
31. (31) Jacksonville Jaguars (1-8): Another week, another loss for the Jags.
32. (32) Kansas City Chiefs (1-8): The "group celebrations" last night in Pittsburgh? Hey, why not? It's been a long year in KC.
Follow the NFP on Twitter: @FootballPost