17. (13) St. Louis Rams (6-7-1): That Rams found out just how tough it is to tackle A.P. in the open field.
18. (19) New Orleans Saints (6-8): The Saints have a shot to finish the season at .500. Not bad after the 0-4 start.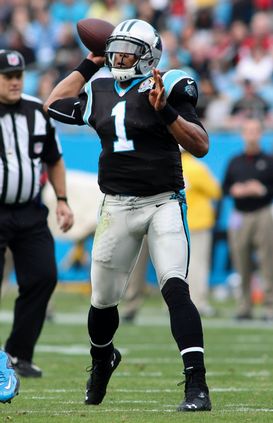 US PRESSWIREIs anyone playing better than Newton right now?
19. (23) Carolina Panthers (5-9): Cam Newton is playing as well as anyone in the league right now.
20. (26) Miami Dolphins (6-8): We didn't even see the Dolphins getting to six wins on the season back in August.
21. (18) Tampa Bay Buccaneers (6-8): The wheels are coming off for Schiano's club.
22. (20) Cleveland Browns (5-9): We expected more from the Browns defense vs. Kirk Cousins and the Redskins.
23. (21) New York Jets (6-8): Benching Mark Sanchez was the only move Rex Ryan could make after Monday night.
24. (22) San Diego Chargers (5-9): The Chargers laid down in the loss to the Panthers on Sunday.
25. (27) Tennessee Titans (5-9): Chris Johnson can still run past any DB in the NFL.
26. (24) Buffalo Bills (5-9): The Bills want a franchise QB, but is there one in the draft?
27. (32) Arizona Cardinals (5-9): After nine straight losses, the Cards got a win vs. a Lions team that has packed it in.
28. (25) Detroit Lions (4-10): Four wins with all of that talent? Come on.
29. (28) Philadelphia Eagles (4-10): Rookie RB Bryce Brown has some ability, but he better hold onto the ball if he wants to stick in the league.
30. (30) Oakland Raiders (4-10): The Raiders have a lot of work to do this offseason. Haven't we said that before?
31. (29) Jacksonville Jaguars (2-12): It could get ugly this Sunday vs. Brady and the Pats.
32. (31) Kansas City Chiefs (2-12): The Chiefs may start Ricky Stanzi at QB vs. the Colts. Hey, why not?
Follow the NFP on Twitter: @FootballPost