17. (14) New Orleans Saints (5-7): Five interceptions from Drew Brees? Did anyone see that coming?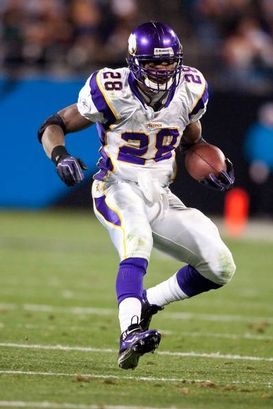 ICONPeterson could use some help on the offensive side of the ball in Minnesota.
18. (17) Minnesota Vikings (6-6): Adrian Peterson should be in the MVP discussion, but this offense needs Percy Harvin back on the field.
19. (18) Dallas Cowboys (6-6): The Cowboys had to put together a comeback win vs. the backup talent of the Eagles.
20. (22) Buffalo Bills (5-7): The Bills beat up on the Jags, but so has the rest of the NFL.
21. (19) Detroit Lions (4-8): The Lions defense couldn't make a play to win the game vs. the Colts on Sunday.
22. (20) Miami Dolphins (5-7): This is the Dolphins team we all expected to see back in August.
23. (26) Cleveland Browns (4-8): Weeden and the Browns are playing their best football of the season.
24. (23) San Diego Chargers (4-8): Reggie Nelson's end zone INT off of Philip Rivers closed the door on the Chargers.
25. (24) New York Jets (5-7): The Jets might as well give the ball to Greg McElroy.
26. (25) Tennessee Titans (4-8): Time to start scouting for the draft in Nashville.
27. (27) Carolina Panthers (3-9): There is a lot of work to do in Carolina this offseason.
28. (29) Jacksonville Jaguars (2-10): The Jags host the Jets this Sunday. Anyone going to watch that one?
29. (28) Arizona Cardinals (4-8): The Cards' offense is abysmal.
30. (32) Kansas City Chiefs (2-10): The Chiefs got the win on Sunday after tragedy struck the franchise.
31. (31) Oakland Raiders (3-9): Maybe its time to give Terrelle Pryor some snaps in Oakland.
32. (30) Philadelphia Eagles (3-9): The Eagles haven't won a game since September.
Follow the NFP on Twitter: @FootballPost
NFP's Introduction to Scouting Class is now registering for our Winter sessions! Save $200 if you register before December 20th! REGISTER NOW!