17. (17) Cincinnati Bengals (5-5): Another week, another highlight reel for A.J. Green.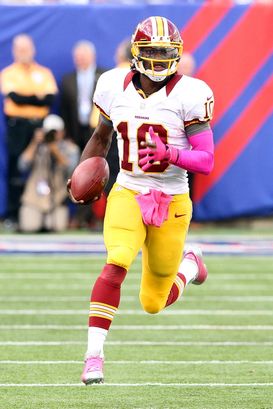 US PRESSWIRERG3 and the Redskins beat up on the Eagles this past Sunday.
18. (21) Washington Redskins (4-6): Four TDs for Griffin on 14-15 passing in the win over the Eagles.
19. (18) Detroit Lions (4-6): The Lions need a win on Thanksgiving vs. the Texans to get back into the NFC North discussion.
20. (26) New York Jets (4-6): A primetime stage and a national audience for Rex and Belichick on Thursday night.
21. (20) San Diego Chargers (4-6): Hey Norv, you might want to start packing up that office.
22. (25) Tennessee Titans (4-6): Titans-Jags is an ugly matchup this Sunday.
23. (27) Buffalo Bills (4-6): Mario Williams flashed some talent in the win over Miami.
24. (22) St. Louis Rams (3-6-1): Tough to figure out the Rams after the Jets blew them out at home.
25. (19) Miami Dolphins (4-6): Remember when the Dolphins were a hot team earlier in the month?
26. (23) Arizona Cardinals (4-6): That 4-0 start for the Cards was nothing but a mirage.
27. (24) Philadelphia Eagles (3-7): Would Jon Gruden be a good fit for the Eagles in 2013?
28. (28) Carolina Panthers (2-8): The Panthers continue to create new ways to lose ball games.
29. (29) Oakland Raiders (3-7): A lot of work has to be done in Oakland to upgrade that roster.
30. (30) Cleveland Browns (2-8): Time to start playing for jobs in Cleveland.
31. (31) Jacksonville Jaguars (1-9): Is that it for Blaine Gabbert in Jacksonville?
32. (32) Kansas City Chiefs (1-9): The Chiefs get the Broncos on Sunday…and that should lead to yet another loss.
Follow the NFP on Twitter: @FootballPost