NFP's Introduction to Scouting Class is now registering for our next session! Early bird pricing in effect until February 15th! Save $100 and REGISTER NOW!
It's Father's Day, a good day to visit with Monte Kiffin.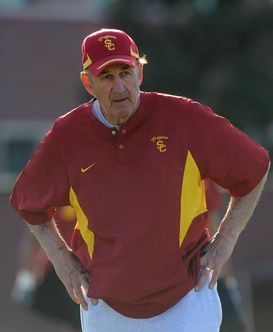 ICONMonte Kiffin knows what a good coach is all about.
The Cowboys defensive coordinator raised his son Lane to be a coach at the top of his profession. And Monte also has been a figurative father to scores of coaches. People don't often consider Kiffin when they talk about "coaching trees" because he always has been an assistant himself. But Kiffin's coaching tree is a virtual Giant Redwood.
Check out this partial list of coaches who Kiffin hired when he was with the Bucs, and Kiffin's recollections of hiring each:
*Herm Edwards. "We needed a secondary coach and Herm had worked with Tony Dungy under Marty Schottenheimer at one time, so Tony knew him well," Kiffin said.
*Rod Marinelli. "Rich McKay and Jerry Angelo mentioned Rod's name," Kiffin said. "They knew him from college scouting after following him at Arizona State, Cal and USC. When I met him at the combine, boy was I impressed."
*Lovie Smith. "We were looking around and around for a linebacker coach. John Cooper, who was the head coach at Ohio State, said, 'There is a good coach by the name of Lovie Smith.' We interviewed him at combine too. He had been a secondary coach. We had Herm to coach the secondary. But we felt Lovie was so good, he had something special, so we wanted him. I was going to kind of coach the linebackers and walk around, and have Lovie learn from me for one year. After minicamp, I said, 'Coach Dungy, he's ready. We don't have to wait.' So he took linebackers in 1996 from the get-go."
*Mike Tomlin. "We interviewed 15, 16 guys for the secondary job," he said. "Then we heard about a young guy at the University of Cincinnati by the name of Mike Tomlin. Rick Minter was the head coach. I had worked with him. I said, 'I heard you have a young coach who is under the radar.' He said, 'How did you hear about him?' I said, 'I've been snooping around.' So I called Mike, and I said, 'This is Coach Kiffin from the Tampa Bay Buccaneers.' He didn't believe it was me. He was outstanding in the interview. I took him out on the field. I call it the 'it factor.' Some guys just have it. You can feel it. Mike was 29 at the time."
*Raheem Morris. "The quality control coach on the Super Bowl team was 26 years old, Raheem Morris. When Mike [Tomlin] left, we moved him up to secondary coach because he was so good."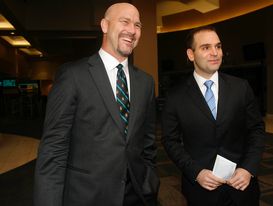 Monte Kiffin helped Gus Bradley get to the point where he became the head coach of the Jaguars.
*Gus Bradley. "We knew Joe Barry was going to leave in one year to go with Rod Marinelli, who is his father-in-law. So we hired a no-name guy from North Dakota State just to have him in place. I knew the coordinator there from when I was at Nebraska. He told me about a young guy named Casey [Gus] Bradley. We hired him as quality control coach. When Joe left, we moved him up. Then when I left the following year, Jim Mora Jr. the head coach of the Seahawks, called and asked if I had any good coaches. I said yeah, Gus Bradley. I said, 'If you interview this guy, I'll be shocked if you don't hire him.' One year later Jim was fired, and Pete Carroll, my good friend from way back, takes the Seattle job. Pete said, 'Do you know any good coordinators?' I said, 'Yeah, there is one right down the hall from you.' He said, 'The defense wasn't too good last year.' I said, 'Interview him, you'll be shocked at how good he is.'"
Kiffin is quick to say he really didn't hire these coaches. Tony Dungy and Jon Gruden did. But Kiffin was a big part of it, probably the driving force. Clearly, he can recognize greatness in an unproven coach.
What does Kiffin look for? "It's how you connect with your players," he said. "There are some really smart coaches who are great on the blackboard. But we use the term can you take it to the grass? How do you make your presentation, how do you communicate? You can know all the X's and O's, but can you get the guys to play hard? That's why I respect Lovie and Rod so much. You know how hard those guys played. That goes back to how much respect the players have for them.
"You also have to be a good listener and fall into what the head coach is looking for. You have to be able to adjust to them. I have to adjust to Jason Garrett now. I've never worked with him before."
Part of identifying great coaches is getting the interview process right.
"I think the biggest thing you have to do is not be in a big hurry," Kiffin said. "Sometimes people get so excited about hiring guys or getting a staff together. You worry about losing a guy to someone else. But you have to make sure you hire the right people, talk to a lot of people. You have to get as much information as you can. We would take them on the field, go through drills. Do you have some tape to show?"
The other element to this is Kiffin develops coaches. Clearly, he hired some special men. But he brought out the best in them and prepared them for greater responsibilities.
"He challenges you," Bradley told me. "Every time you're with him, have a notepad. You write things down. You go to your desk the next morning. There's a card with red ink. 'Gus make sure you work on these things. Take a look at play 52 of this game, tell me what you think.' It's never ending. He's constantly striving to challenge you to get better. I've carried it over to everywhere I've been."
Bradley, now the head coach in Jacksonville, carried over something else he learned at the feet of the master. "Monte Kiffin taught me it is a business, but it is okay to have fun," he said. "Focus doesn't mean rigid. It's OK to come into meetings every day with players and enjoy their company."
Kiffin knows how to get the best out of players. And he especially knows how to get the best out of coaches.
My Sunday Best: Father-Son Combos
It is a great gift for an NFL coach to be able to be able to give his son an entrée into his career and teach him the business. For Father's Day, here are my Sunday Best NFL father-son coaching combos. Only current NFL coaching pairs were considered.
Bobby April and Bobby April III. The younger April went to the Jets this year as defensive quality control coach after two years in a similar position with the Eagles, where he worked with dad. Now the elder April is in Oakland as the special teams coach.
Bob Babich and Bobby Babich. This pair never has worked together. Father Bob is the defensive coordinator in Jacksonville, and Bobby is assistant DB's coach in Cleveland.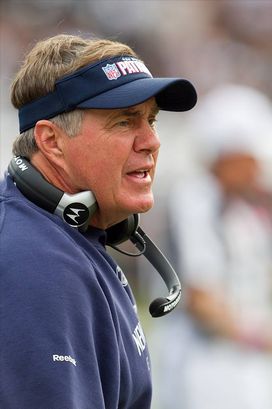 Bill Belichick learned from his father, and now is teaching his son.
Bill Belichick and Steve Belichick. Bill Belichick learned the football business from his father Steve, and now Bill's son Steve is learning the football business from him as the Patriots' coaching assistant. It's not like Steve has big shoes to fill or anything.
Paul F. Boudreau and Paul T. Boudreau. Little Paul is the assistant special teams coach in St. Louis, where big Paul is the offensive line coach. Little Paul is a 16-year college assistant.
Jeff Fisher and Brandon Fisher. The head coach for the Rams hired his son away from the Lions to be his defensive assistant. Those who know Brandon say he has a bright future in the NFL.
Kevin Gilbride and Kevin M. Gilbride. This father and son combination works in concert, as the younger Gilbride is the receivers coach for his father, who is offensive coordinator of the Giants. He has risen through the ranks after starting out as offensive quality control coach.
Jim Harbaugh and Jay Harbaugh. The head coach of the 49ers, who learned coaching from his father Jack Harbaugh, squared off against his brother John Harbaugh in the Super Bowl last year. And he also squared off against his son Jay, who is an intern for uncle John. Wow.
Gary Kubiak and Klint Kubiak. The Vikings hired Gary's kid Klint this year as offensive quality control coach. He had been working at Texas A&M.
Wade Phillips and Wesley Phillips. The great thing about this father-son duo is Wade hired his son when he was the head coach of the Cowboys, and the Cowboys retained Wesley after they fired Wade. Now Wesley is the tight ends coach in Dallas.
Mike Shanahan and Kyle Shanahan. This is the most powerful father-son combination. At some point soon, it is very feasible that father and son will be squaring off as head coaches. For now, Kyle is Mike's offensive coordinator in Washington.
Bob, Ryan and Bobby Slowik. Bob and Bobby now work side by side with the Redskins, Bob as linebackers coach and Bobby as defensive assistant. Ryan, the Cardinals' outside linebackers coach, used to work with his father in Denver.
Norv Turner and Scott Turner. The offensive coordinator of the Browns has his son working with him as wide receivers coach. Scott Turner worked with Browns head coach Rob Chudzinski in Carolina, and Chudzinki worked with dad Norv in San Diego.
Jim and Jeremiah Washburn. This is a unique father son duo because they will go against one another in practice now that Jim has joined the Lions. Jim is the defensive line coach and Jeremiah is the offensive line coach. And Jim is known for being a bit combative.
Mike and Adam Zimmer. After working for the Saints and Chiefs, Adam will get his first crack at working with his father. Now he is the Bengals' assistant defensive backs coach, while Mike is the defensive coordinator.
Things I Didn't Used To Know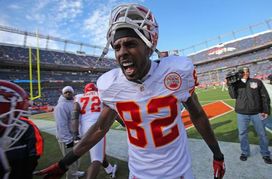 Dwayne Bowe might be disappointed if he thinks he will lead the league in receiving.
*Some of the coaches in Kansas City had to have a word with Dwayne Bowe about his stated goal of leading the league in receiving. While they appreciate Bowe's enthusiasm and ambition, they want him to understand Andy Reid's offense doesn't work that way. Never has. Probably never will. Reid likes to spread the ball around to multiple targets and take what the defense gives them. He won't be looking to use Bowe the way the Lions use Calvin Johnson. And you might want to keep that in mind during your Fantasy Football drafts.
*The Colts had a pretty good vertical passing game last year, and they are looking to develop it further. What's more, they believe they have the resources to be one of the better teams in the league at stretching the field. Part of their enthusiasm has to do with the acquisition of Darrius Heyward-Bey. Indy coaches see him as a potentially explosive playmaker who can get behind coverage. The Colts will be trying to get Heyward-Bey more opportunities than he ever had in Oakland. And they also want to use second year tight end Coby Fleener more as a vertical threat down the seam. With his speed and size, Fleener should be able to take advantage of man to man matchups as well as zone coverages.
Hot Reads
*Former Bears first round wide receiver David Terrell said he would have "cut off both my balls" to play with Jay Cutler. And if Terrell would have run the wrong route or dropped one of Cutler's passes, Cutler might have done it for him.
*Hey Darnell Dockett, they have counseling for this sort of thing.
*Chip Kelly is stressing that the Eagles have to do everything really fast. But Jason Peters took the message a little too far, don't you think?
*If the NFL really was concerned about keeping players healthy, it would do something to protect safeties from quarterbacks.
*Is it possible Bill Belichick could have been the man responsible for the downfall of Tim Tebow and the ascension of Tim Tebow? This is why we love the NFL, folks.
Dan Pompei covers pro football for the Chicago Tribune at chicagotribune.com