NFP's Introduction to Scouting Class is now registering for our next session! Early bird pricing in effect until February 15th! Save $100 and REGISTER NOW!
When free agency begins, probably sometime this week, there will be no better player available than Nnamdi Asomugha.
But whether or not he is the player who has the most value will depend on the perspective of the team considering him. For most teams, Asomugha will be evaluated as a player who won't have as much impact as others could.
Of course, Asomugha will shut down his side of the field as well as anyone, as he has done year after year for the Raiders. Asomugha is a rare cornerback, one of the best cover men in modern NFL history. The question then, is what is the value of such a player?
"He has good feet, change of direction, he covers a lot of ground and he's phyiscal, but you can always throw the other way against a shutdown corner," said one AFC West offensive assistant coach who has game planned against Asomugha many times. "We never targeted him, but we didn't shy away from him either when the picture presented itself. I'd much rather play against someone like him than a great pass rusher. The biggest challenge is protecting the passer."
Asomugha made almost $16 million last year and is expected to make at least that much this year. Yet he probably won't have the impact that some pass rushers have, or maybe even running backs, wide receivers, linebackers or safeties.
An opponent can take Asomugha out of the game by looking the other way. Try doing that with Julius Peppers or James Harrison.
If Asomugha plays as he always has, he won't make many big plays. In fact, he won't many plays of any kind.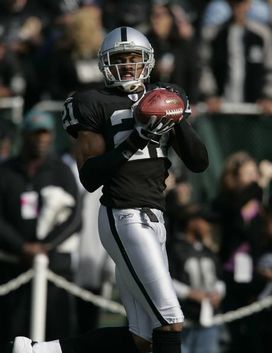 A rare sight: Asomugha with a football in his hands.
Last year, Raiders opponents threw 470 passes against them and targeted Asomugha only seven percent of the time, according to Stats, Inc. Instead, they just threw elsewhere. Fellow corner Stanford Routt was thrown at three times as much as Asomugha. He was one of six of Asomugha's teammates who had more balls thrown his way. And throughout the league, 192 players had more balls thrown at them, including 37 linebackers.
It shouldn't come as a surprise, then, that Asomugha defended only six passes and had zero interceptions (he's had two over the last three years). Asomugha ranked 107th in the NFL in passes defensed.
Asomugha's hidden value is helping his team's pass rush by taking away a receiving option. A second hidden value is helping other players cover better because defenders don't have to worry about helping him. But it's difficult to justify making a player one of the best paid defenders in the game based on hidden values.
Asomugha won't appeal to most teams, given his price tag. He needs a team that's a perfect match.
The team has to have some salary cap space, and couldn't have a lot of other holes to fill because Asomugha will take up most of a team's cap space and cash. "Signing him will take a team out of filling other positions, so he isn't ideal for a team with multiple needs," said a pro personnel director.
The team will have to believe it is one player away from greatness. "If a team feels they are one player away from the Super Bowl, or needs one player to get over the hump, they might make a play on him," the pro personnel director said.
The team can't be one that relies mostly on zones. "You wouldn't want him unless you play 70 to 80 percent man," the assistant coach said.
The team needs a defensive coordinator who is willing to take chances and play matchup football. Darrelle Revis, for instance, is a lot more valuable in the hands of Rex Ryan than he would be in the hands of most defensive coaches.
There probably isn't a team that fits every criteria perfectly. And that could make Asomugha a risky investment.
Things I Didn't Used To Know
*No matter what kind of shape Randy Moss is in, he might not find much interest on the open market. There are a few reasons for it, based on conversations with coaches and front office men. The first is Moss, who always has been somewhat of a specialist as a route runner, is more limited in the route tree than ever at the age of 34. "He can only run—a go, corner and a post now," one personnel director said. "Maybe a hitch." That is not to say Moss can no longer beat a defender deep. He can, and he will. But his offensive coordinator will have to play to his strengths and not ask him to do what he can't do well. A lot of offenses are not willing to make that kind of sacrifice for an aging receiver like Moss who is a notorious poor practice player. An offensive coordinator explained his lack of interest in Moss by saying he worries that speed-reliant receivers like Moss decline more rapidly than bigger, stronger receivers with an all around game.
*Once the lockout lifts, don't be surprised to see the Ravens and Haloti Ngata shake hands on a long term deal. Ngata isn't going anywhere because the Ravens used a franchise tag on him, but it would make sense for both sides to agree to a deal early in free agency because Ngata currently is taking up more than $12 million in cap room. The Ravens couldn't sign Ngata to a contract prior to the lockout because the 30 percent rule prevented them from giving him the kind of raise he deserved. They will be able to now, and it will enable them to clear maybe $6 million in cap space and increase their maneuverability in free agency.
*The Broncos believe new coach John Fox could be the key to kick-starting Knowshon Moreno's career. Fox has a good way of dealing with players, and the hope is he will be able to reach Moreno and challenge him. Moreno's lack of maturity has been a factor in his underachieving up to this point. The Broncos recognize he has talent (maybe not 12th pick in the draft talent, but he has talent) and value, and aren't giving up on him yet.
*The Packers are all ears when it comes to talking about trading Nick Barnett. Moving him would save them more than $4 million on the salary cap, and they could use that space. Barnett is a versatile, valuable defender who can start in multiple schemes and at multiple positions, but he's now behind Desmond Bishop and A.J. Hawk on the Packers' depth chart. If the Packers can't get what they want for Barnett before camp or early in camp, they may hang onto him to see if teams increase their offers as camp and preseason go on. Releasing him also could be an option at some point.
My Sunday Best: Undrafted Players
Players who don't get drafted are afterthoughts. They play for peanuts and are easily banished to the practice squad, if they are worth keeping around at all. But it's more than likely a handful of the undrafted players who sign with teams in the coming days will end up as significant contributors, if history is a guide. Here are my best undrafted players since the merger. Who would you add?
Jeff Garcia—Coming out of San Jose State, he was too skinny and had an ugly delivery, so the NFL looked the other way. After four years in the CFL, Garcia proved to be an ideal West Coast offense quarterback, playing in four Pro Bowls and becoming only one of eight passers in history to throw for 30 touchdowns in back to back seasons.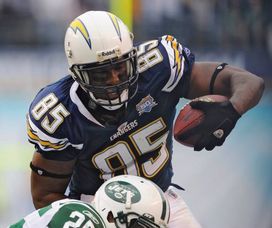 ICONIf the NFL knew how good Antonio Gates would become, he would have been a high first round pick.
Antonio Gates—Of course he slipped through the cracks. Gates, who has been to seven Pro Bowls, was a basketball player at Kent State. Scouts had no film to judge the tight end prospect, and the Chargers took a shot in the dark.
Cliff Harris—Not many scouts were looking for defenders form Ouachita Baptist, but Harris fit the profile of the Cowboys' progressive scouting standards. He played in six Pro Bowls and five Super Bowls, and intercepted 29 passes in his career.
James Harrison—At six foot even, he was deemed too short to be an NFL linebacker. Teams also had some off field concerns about the Kent State product. When given chances by the Steelers and Ravens, Harrison failed to capitalize. He was cut four times before the light bulb finally went on.
Jay Hilgenberg—As the center for the Chicago Bears in the 1980s, Hilgenberg helped clear the way for Walter Payton. With seven Pro Bowls on his resume, he is a potential hall of famer.
Jim Langer—This hall of famer was in the middle of the offensive line of one of the greatest teams in history, but he was passed over in the 1970 draft after playing middle linebacker at South Dakota State. He also was cut by the Browns before settling in with the Dolphins.
Larry Little—Langer and Little formed a devastating blocking combination, as Larry Csonka would attest. This hall of famer first signed with the Chargers as an undrafted free agent, and was traded to the Dolphins.
Warren Moon—In the days before the NFL was ready to believe black quarterbacks could win, some teams advised Moon to switch to tight end. When he refused, he went undrafted. He subsequently played for six years in Canada before embarking on a 17-year NFL career. He threw for more yards in professional football than any player in history and is a hall of famer.
Nate Newton—He played on three Super Bowl winners and made it to six Pro Bowls after starting out in the USFL.
John Randle—At 6-1, Randle was too small to be drafted out of Texas A&I-Kingsville. But he used his size to get under the pads of big blockers and made it to the hall of fame as one of the most unconventional pass rushers in league history.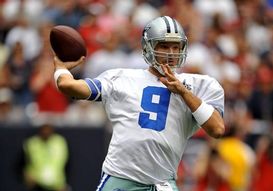 ICONTony Romo took an unconventional path to become the Cowboys quarterback.
Tony Romo—He was a productive, athletic quarterback from Eastern Illinois who inexplicably flew below the radar of NFL teams. Because he was undrafted, Romo was afforded the luxury of developing at a reasonable pace—which likely has been no small factor in his success.
Donnie Shell—He wasn't good enough to be drafted out of South Carolina State, but he was good enough to start for the Steel Curtain for 11 years. He was named to the Steelers all-time team, and once was among 15 finalists in voting for the hall of fame.
Adam Vinatieri—After leaving South Dakota State he had to play in Europe before the Patriots gave him a shot. He subsequently has played in five Super Bowls and has become arguably the greatest clutch kicker in history.
Kurt Warner—He didn't even start at Northern Iowa until his senior season, and he didn't impress the Packers in his first NFL training camp. After a stint in the Arena league, Warner hooked up with Mike Martz in St. Louis and became one of the NFL's greatest passers.
Scout Talk: Agent as evaluator
Evaluating quarterbacks is part science, part art, and part pin the tail on the donkey. Nobody bats 1.000, and hardly anybody bats .500. I looked at some of the best quarterback evaluators of all-time here.
Today, I'd like to tell you about another evaluator of sorts who knows a little about quarterbacks—agent kingpin Leigh Steinberg. Leigh has been one of the premier authorities on quarterbacks in the NFL for 36 years now, having represented Troy Aikman, Steve Bartkowski, Drew Bledsoe, Tony Eason, Jeff George, Jim Harbaugh, Warren Moon, Ben Roethlisberger and Steve Young, among many others. You can now read Steinberg here, and I recommend you check him out.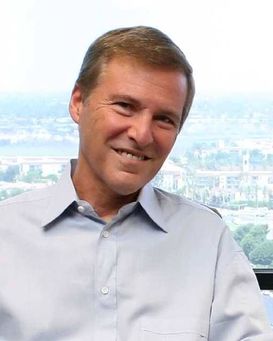 Leigh Steinberg knows a good quarterback prospect when he sees one.
I thought it would be interesting to ask Steinberg about how he identified quarterback talent. First off, you should know Steinberg does not pretend to be a scout, but he did have a formula of sorts that he used to judge prospects. He relied on the professional opinions of a number of trusted friends, including Moon and Southern Methodist coach June Jones.
But he also had some guiding principles. For instance:
*Accuracy is an absolute necessity—and not just accuracy at the college level. A quarterback's accuracy has to be able to project to the NFL level. Without it, a quarterback has no chance. For instance, even though Andre Ware was a Heisman winner at University of Houston, Steinberg learned Ware would have no chance at the pro level as a 51.6 percent passer.
*The ability to stay healthy is critical. "You have to look at the injury history," Steinberg said. "The ones who make it tend to have amazing resiliency. They can take contact, somehow avoid major injuries to their key joints—knees and shoulders. They have incredible pain tolerance, incredible ability to rehab rapidly. I visited Troy just after his disc surgery, and he was up and walking around. I asked him if the doctor said it was okay. He said, 'No, but isn't it great?'"
*A quarterback has to be able to be able to elevate his play in the clutch. Steinberg talks about wanting his QBs to have a "quiet mind" when the volume is turned up. "Most games are close," he said. "They often come down to one drive. When a quarterback has thrown interceptions, his team is behind, and he has to be perfect on a final drive, what does he do? That's so important. You want a quiet mind. I used to see Ben Roethlisberger multitask—he would watch TV, take five phone calls, be on his computer. But he could tune out every extraneous thing, and focus on task at hand. He has a quiet mind."
*The will to be great matters. In 1998, Steinberg, on recommendations from then-Washington State coach Mike Price and Bledsoe, signed Ryan Leaf before Peyton Manning decided on an agent. He thought Leaf was going to be an NFL star. Steinberg might not have ever had a shot at Manning, but in hindsight he calls this the worst evaluation mistake of his career. "The reality is Manning is not the most physically gifted quarterback, but he was the Joe Montana qualities," Steinberg said. "His work ethic, his desire and his intensity are all incredible."
*Strong roots make for sturdy branches. In 1993, Steinberg was in the pole position to land Rick Mirer. Then he met Bledsoe. And he met Bledsoe's family. Bledsoe's father Mac especially impressed Steinberg. As a result, Steinberg chose to pursue Bledsoe instead of Mirer. "I saw the stability and security from that family, and how his father was a great motivator," Steinberg said. "We look at that aspect of a player's background, his bloodlines. When I met Jim Harbaugh's father, I knew what we had there. Steve Young's father [LeGrande] played at Brigham Young and his nickname was "Grit.""
*Willingness to be a role model reveals character. Steinberg only wanted players who would give back. "If they are interested in retracing their roots, they tend to be of high character," he said.
One Man Yelp: Lost In Shangri-La
My favorite read of the summer was Lost In Shangri-La by Mitchell Zuckoff. It's the true World War II story of a group of enlisted men and women who were rewarded for their service with a plane ride over the primitive valley of "Shangri-La" in Dutch, New Guinea. But the plane, the Gremlin Special, crashed in a rain forest. Of the 24 passengers, only three survived.
How this hasn't been made into a movie yet is beyond me, but I'm sure it's coming. This has to be one of the most fascinating stories from a war full of them.
The survivors were John McCollom, whose twin brother perished in the crash, Kenneth Decker, who suffered a severe head wound and other injuries, and the lovely Margaret Hastings, the "queen of the lost world" and the star of the story. Together, they dealt with severe burns, gangrene, lack of food, fear of cannibals, an inhospitable climate and harsh terrain.
In the course of five weeks in Shangri-La, the survivors made peace with the natives through a series of awkward interactions. Eventually, the experience drew the natives into the modern world as currency and firearms are dropped into their villages.
The survivors were eventually discovered and saved by paratroopers, and returned to civilization in an unconventional, outlandish manner. Because planes couldn't land and take off in the jungle, a glider plane was dropped in the valley. The survivors boarded and waited for another plane to fly by with cables dangling and hook the glider plane, thereby carrying them home.
This story takes you to another place and time, and it's a good place to be.
Hot Reads
*Mark Sanchez became a better quarterback last week when the Jets hired Tom Moore as a consultant. Even at 72, Moore is one of the games great offensive minds.
*If it's true that those who forget history are doomed to repeat it, someone needs to give Dan Snyder a quick brush-up course on his past free agency forays, like this one from Don Banks.
*As part of the collective bargaining effort, owners made a concession to players that the large majority of coaches have already made. The new rules limiting two-a-days won't affect many teams.
*If I were going to get 48 percent of NFL revenues, I'm not sure I could tell you with a straight face that I was "tricked, duped, led-astray, hoodwinked and bamboozled." Even if I had been.
Dan Pompei covers pro football for the Chicago Tribune at chicagotribune.com. Follow him at Twitter@danpompei